What is Electric E-Scooter & Bird App Development Cost?
The e-scooters are the trend that makes the economy of ride sharing greener and more economical. Since they have been introduced, electric scooters (e-scooters) are in the news. In addition, the best part is-they are gaining more recognition and popularity. While still fresh on the market, not only the stakeholders but also the urban multi-modal users have accepted the full support of the ride mode.
If you are in San Francisco, San Diego, Indianapolis, California, Santa Monica, Washington, DC, or Chicago somewhere people will be crossing road on e-Scooter. Two or three wheel hybrid scooters powered with electricity. To store the energy that powers the motors, a panel in a rechargeable battery is used.
The purpose of this article is to get an idea of how many the entrepreneurs would have to spend to earn millions in this on-demand e-scooter app and how much does it Cost to Develop App like Bird, Skip, Lime, Spin, Goat, Scoot. While the scope would specifically involve having you an answer to the Bird like e-Scooter App development cost, we will also look at some other key elements to consider when build on-demand e-Scooter app like Bird.
In this article, we will look at the competition that Bird has developed and give you the answer to the electric scooter sharing app development cost features of an electric scooter-sharing app.

How Does On Demand e-Scooter App like Bird work and its cost?

The steps to activate your Bird e-scooter like app are here:
Download the Bird e-scooter app from store
Create Login
Enter the Card Details
A map of the app will show you the scooters available nearby
Zoom in to find scooter data, such as the status of the battery.
Click the button on your phone to activate it when you are next to an e-scooter.
First, to begin the drive, scan the QR code.
Click the button in the app to lock the scooter once you have reached your destination.
The app will then tell you how long your ride will last and how much will be billed.
Now that you know how to book and launch a ride through an app for electric scooters, let us talk about the Cost of Developing Electric bike App like Bird. Built on Native systems–like on an individual Android or iOS device–the price of e-scooter sharing app development like Bird will be much lower than that built on a cross-platform system like React Native or Flutter.
While the process of fixing the design after completion of the design system and UX research process is common across all complexities of the app. It is the type of inclusion of design elements that increases or decreases the cost of on-demand mobile app.
The more comprehensive and creative the app is, the greater the development Cost of app like Bird, Skip would be. The team structure that would be involved in its creation process is another aspect that helps in determining the Bird like apps development cost.
 Bird App Model & Cost to build Bird like App
Such apps make a major contribution to book trip, begin the commute, and mark a user's end. In the present days, the IoT or the Internet of Things has become, hopefully in every industry, a modern tech buzzword. Therefore, IoT has immense potential to transform the whole bike and scooter industry when it comes to scooters and bicycles.
The Cost to Create App ranges from $20,000 to $40,000. However, as the level of expertise, experience, and skills differs, this range of e-scooter app development costs differs from company to company.
However, if a company shares directly the exact number of hours and Cost of Building Dockless e-scooter App like Bird without specifying the criteria for app development, please be careful because the design of the mobile app can involve additional costs that you do not know about. The Cost to Make App like Bird will depend on a number of factors, but the platform choice and cost-designing mobile app are the most obvious.
Fusion Informatics creates the e-scooter applications that fit your budget as one of the top Electric E-Scooter App Development Company in San Francisco, Indianapolis, and Los Angeles, New York, USA. Contact Fusion Informatics today and get a quick quote in your budget and timeline to develop an app such as Bird.
Benefits of Electric scooter sharing Service and solutions

Here are some key benefits of On-demand e-Scooter sharing Apps like Bird, Skip, Lime, Spin, and Goat.
Using a rechargeable battery, electric scooters run on electricity. They are not consuming expensive oil and energy, therefore. The engines used in the scooters are therefore very cheap.
The E-scooters do not use fuel, and the engines do not contain fumes or fuel. We are not related to emissions.
These are environmentally friendly, and their adoption won't harm the environment.
Sure, everyone can get the e-scooter from anywhere and everywhere comfortably and quickly. You do not have to think about traffic, congestion on the road, and more.
Compared to cars, trucks and other vehicles, e-scooters are safe. Why? Since e-scooters are environmentally friendly, they deliver better quality to you.
The e-scooter is completely a timesaving option! This is because, if cabs and other transport vehicles are caught in the congestion, you don't have to wait for long hours.
When riding electric scooters, you can't sit and relax. Therefore, they help you burn and stay fit with some calories.
You are sending your cars to the service station and maintaining them well. Moreover, any time you do that, that costs you a rocket. However, with the e-scooters, that is not the case. We run on batteries, so only those batteries need to be charged and kept clean. That is how it is build.
Many people ask-Do I need an electric scooter (e-scooter) driving license. No, you do not need an electric scooter to drive.
You do not need a spacious parking space to park electric scooters (which is already a concern here in the U.S.A) as they are quite small. In addition, even in the smallest areas, you can park them.
Basic Features Stirring the Cost to make Bird like App
Here are the features, which influence the Cost to develop Bird like app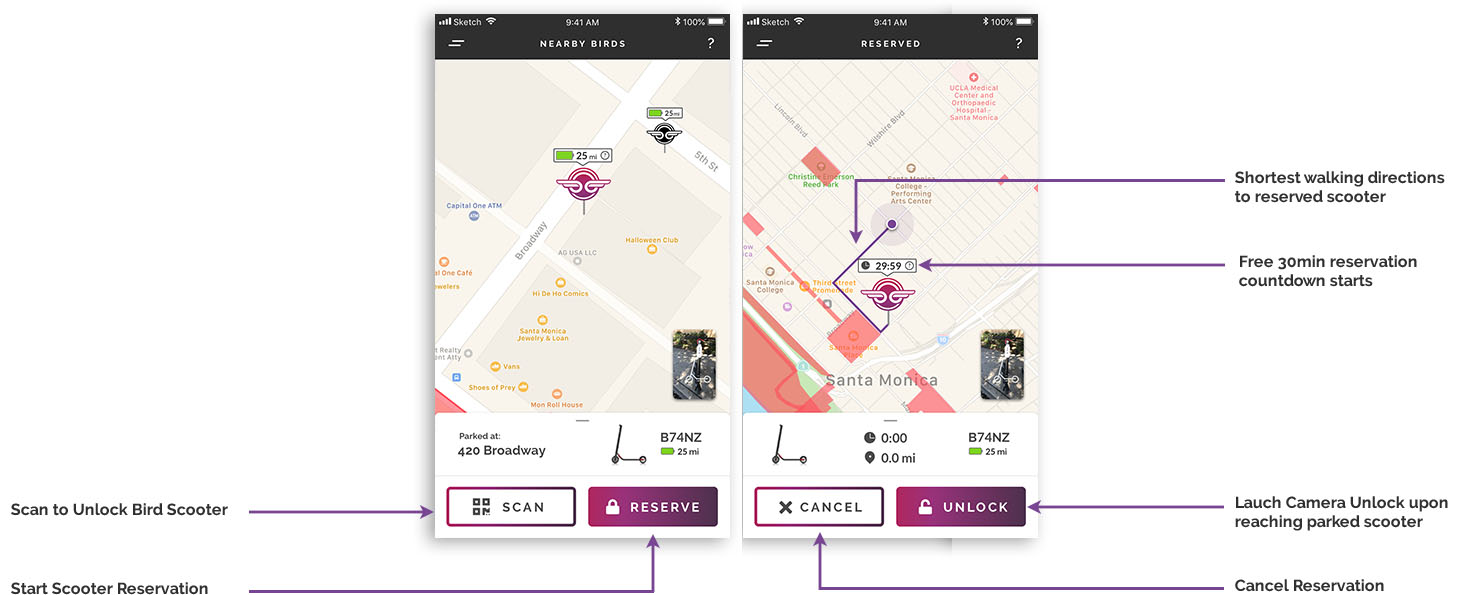 You need to understand the ease of hiring an e-scooter when creating a mobile app such as Bird or Lime or Spin. In addition, for that reason, users should be able to quickly and trouble-free check for the electric scooters.
This is the first point of contact between the users and your Bird-like mobile app. The experience must therefore be smooth, effective and close to hiring a taxi with the aid of Uber or Lyft.
Now, this is one of the main features the mobile app requires to have Lime or Bird. When, an e-scooter user book, it should be quite easy to unlock the hired e-scooter using the mobile app for electric scooters.
In addition, the e-scooter's locking system should be highly secure. The e-scooter's security enhances the trust of the users in your company. In addition, make sure that your locking and unlocking systems are sufficiently effective to gain user trust in your app.
Reserve the Scooter by scanning the QR code
If you've used the Bird electric scooter app, you'd know there's a feature that uses the QR code to scan an electric scooter and book the same thing.
Okay, one of the best tactics has always been to retain the rivals ' simple functionalities. So, when creating a mobile app like Bird or Lime, you also need to consider having this QR scanning feature.
Hire iOS/iPhone and Android electric scooter App developers who can help you improve your phone app's UI / UX.
Secured & Smart Lock, Pause & End Ride
The electric scooters are machines that are powered by themselves. In addition, of course, you can't expect users to drive until they constantly reach their destination. They may have some shopping on their mind, or maybe they are searching for a few smaller breaks.
One of the essential features of GPS real-time tracking is that every on-demand mobile app must have. This feature has been seen in Uber, Ola, Lyft, Bird, Zomato, Lime and virtually every other mobile app based on service.
Real-Time Tracking of each Ride
Your mobile app for electric scooters must have a feature that accepts payments online. This feature is necessary because it is a self-driven vehicle with no driver taking cash payments.
Nevertheless, for safe online transactions, the payment gateways you integrate should be accurate, effective, and open enough. Therefore, you would have to collaborate with virtually all the well-known payment gateways to win business attention.
Your mobile app for electric scooters must have a feature that accepts payments online. This feature is a must because it is a self-driven vehicle with no driver accepting cash payments.
Nevertheless, for safe online transactions, the payment gateways you integrate should be accurate, effective, and open enough. You will therefore need to partner with virtually all the well-known payment gateways to attract consumer interest.
The alerts should be in the following instances-
When looking for nearby e-scooters
When you book a nearby e-scooter
While there is a split with a client
When a journey ends
Just like notifications, your e-scooter mobile app needs updates to help you share deals, news, and more with users of your mobile app.
Advanced Features affecting the Cost to Create Bird like App

By using auto lock or smart lock, once the destination arrives, you can quickly lock the scooter.
With the aid of which it supports several different languages, this is considered to be a very important feature of the e-scooter app.
Real-time monitoring is regarded as a very important feature of the creation of this E-scooter device. The tracking feature in this app can help users to securely park their vehicles and locate the e-scooter's location.
Using secure payment gateway integration becomes very convenient for consumers to pay for the services online.
Locate the hired escooters from the app itself in different locations. The system features the usability of GPS location.
The QR code scanning techniques allow users to scan the dock's specific code less bike they employ by using the smartphone camera.
Looking to Develop Clone Apps like Bird? Please Share your requirement to "Get a Free Quote"
[IMAGE]
How much e-Scooter, Scooter sharing app development cost?
When technology evolves, we have also progressed from trusting online people to trusting in credit card details, now we have reached the third trust wave, which communicates with trustworthy strangers from all kinds of marketplaces.
How much does a Bird like App Cost? It normally takes a combination of 700 to 1000 hours of planning, design, development, testing, and QA to create the scooter-sharing app Bird. Nevertheless, the hours of creating and Cost of Creating e-Scooter App like Bird differs depending on the type of design, model, creation, integration of third party APIs and more.
Now if you choose to adopt the collection of app and the feature lot we mentioned in the article fully, the Cost of Making electric scooter App like Bird, Skip, Lime, Spin, Goat, Scoot clone app would be in the range of USD 20,000 to USD 35,000.
Ready to Create Your Best e-Scooter bike sharing App in 2019 – 2020
Would you like to understand the entire business idea of the e-scooter mobile app? Alternatively, would you like to address the specifications of your electric scooter app? We tend to meet our clients expectations by fulfilling their business goals on an ongoing basis.
If you are considering the idea of developing a Bird, Skip, Lime, Spin, Goat, Scoot like e scooter phone, speak to us. We will enable you to list the functionality and awesome design and development through the discovery phase. We are one of the Top Electric E-Scooter App Development Company in USA, San Francisco, Indianapolis, California, Los Angeles, New York, Charlotte, North Carolina, Chicago, Illinois, Detroit, Phoenix, Arizona, Houston, Texas, Washington DC, Michigan, and contact us to know the Development Cost of App like Bird, Skip, Lime, Spin, Goat, and Scoot.
Speak to our experts by sending an e-mail to sales@fusioninformatics.com and our experts can help you understand ABC's of on-demand e-bike, e-scooter business and how to continue with the development of your electric scooter app.