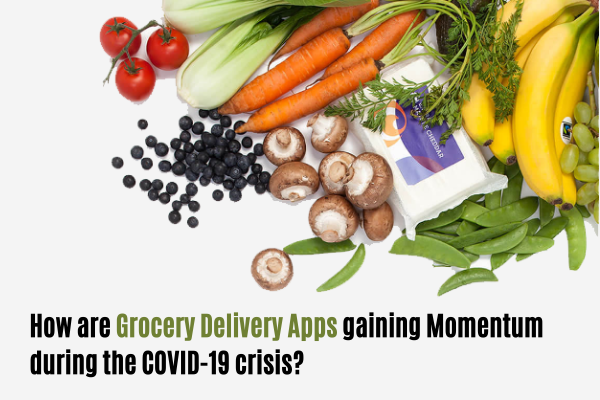 The COVID-19 situation doesn't seem to end, and now we have to learn to live with it. Several states and cities in the US and India are going under lockdowns again to curb the disease. So, what is the most common problem that people are facing nowadays? It's Grocery Shopping. Since the brick and mortar grocery shops are open for a few hours only, they do not allow you the flexibility to purchase anything. Also, let's face this, people are skeptical about going out and buying the essential items they require daily.
The Current Scenario in the USA
Apps like Amazon and Instacart are hiring people on a large scale to meet the online delivery requirements. Amazon hired 175,000 associates in April, amidst the COVID-19 crisis. 
On the other hand, Instacart, an American Grocery Delivery application, stated that their weekly sales were 20 times the usual during the pandemic's early days. This seems right since customers wish to practice social distancing, come in contact with fewer people, and shop groceries in a contactless manner.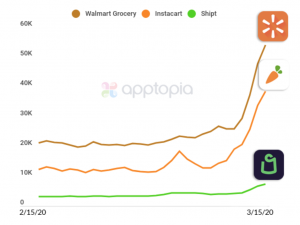 Companies across the USA are now highly interested in developing Grocery Delivery Apps to put ingenious concepts into tests, and therefore meet consumer needs in a better way by keeping in mind their health and well-being.
The Current Scenario in India
Online Grocery Delivery services are enabling all the B2B companies in India to cope with these trying times. Even though they are delivering the requirements, the issue that still persists is the delivery time. To deal with this, several companies like Uber, Swiggy, Zomato, Meesho, Paytm, Perpule, and NoBroker came up with the idea of delivering groceries. This was a massive relief for companies like Big Basket and Grofers, who faced difficulty in managing their delivery fleet due to the high requirements.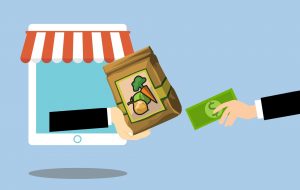 Now, these companies got the opportunity to resolve these issues by hiring more executives and improving their supply chains. This may look like a red flag for all the new players that entered the market. But, no. It's not. The latest grocery delivery platforms are also gaining traction across the country because of the unique features that they provide.
Challenges that arise with Online Grocery Shopping during COVID-19
Grocery is one such essential need that we cannot ignore. Consumers face problems daily to cope with their needs during the pandemic. Even though there is a high rise in the number of companies that are coming up with the aid, there are numerous challenges they face in the grocery delivery business.
A few of them are:
Lack of Supply Chain Management
Change in Business Model from Traditional to Revenue
Limited Workforce/Employees
Delayed Deliveries
Changes in Customer Demands & Customer Behavior- Panic Buying
The Future of Grocery Delivery Apps- What can be done?
According to a report by Grand View Research, the global grocery and food market is expected to grow at 5% CAGR from 2020 to 2027. There are prospects where Grocery Delivery Apps are going to earn huge profits in the near future. Although there are some challenges, eventually, they can be resolved as per customer needs. It is evident that the COVID-19 situation has expedited the whole process, but at the end of this crisis, the grocery delivery segment will still reach 0.5% of the total retail market (via Albinder Dhindsa, Co-Founder, Grofers).
So are you curious how much does it cost to Develop On-Demand Grocery Delivery App? Hire us, for developing something similar here!