Fusion Informatics is a leading mobile app development companies in Amsterdam, the Netherlands that allows your business to build strong and automatic mobile marketing opportunities that result
in the highly effective business model and we helped our clients enhance ROI and productivity and helped to boost branding that launches the new digital era of business on marketing platform.
Our Mobile App Development Expertise
Android App Development
We provide vast varieties of Android App Development services in the Netherlands, our team of intelligent Android app developers, UI/UX creators who can support you to obtain your Android app development design a striking victory.
iOS App Development
Our iOS Development Company in Netherlands present and describe the proposed deliverables for your design and arrange a determined amount and timeline together performed complete transparency about the terms and specifications.
Why Fusion Informatics Best Mobile App Development Company in the Netherlands?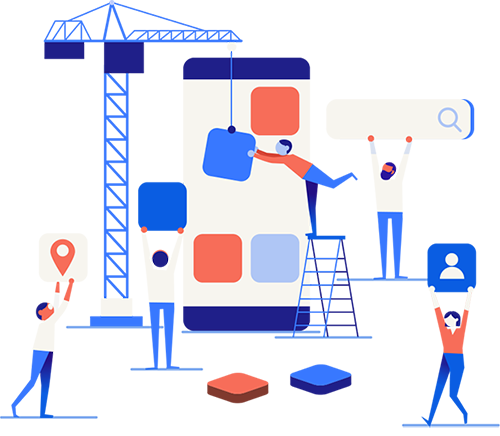 The word Fusion Indicates the team of innovators formed to blend advanced technology in the business to grow in high-level and made us the best service provider and become Top mobile app Development Company in the Netherlands. More than 1500+ applications delivered seamlessly on the most top-notch platforms. We completed more than 500+ projects with custom designs and recommendation to satisfy and fulfill the needs of customers. We provide pleasant, high achievement, scalable and reliable Mobile apps. With more than 17 years of expertise in the department, we arise industry best systems to build mobile apps for sustainable mobility solutions. As per application standards, we are the most affordable and reliable Mobile Application Development Company.
For any Industry, we develop a mobile app that allows your business to flow without any problems and it provides a smooth experience for your business to operate a long-term connection with customers. Selection of Top Mobile App Development Companies in Amsterdam, Netherland will decide the future of your business, we are one of the top mobile app development company provides the best solutions for your marketing needs. We are specialized in developing custom designs with Industry standards.
Our Best Mobile App Development Solutions
We, at Fusion Informatics, consider in offering the best mobile apps so that your business can achieve success journey with a top mobile app development company. We confirm professional optimization by providing reliable, creative, result-oriented mobile applications for business needs. Our app development process is capable to combine with the newest technology.
This will encourage you to continue in impression with your consumer by presenting offers, improvements, and newinventionpresentations. We Develop your idea into a reality that is implemented within weeks with our proficient developers approach our best and top mobile app development company in the Netherlands lets you develop smart and agile mobility services for smooth function.
---
Reach us at sales@fusioninformatics.com. If you are looking for a reliable mobile app development company in Stockholm, Gothenburg, Malmo, Sweden