Just developing an app, add features and deploying to app stores does not make your application successful. There is something called User Experience (UX) which plays an important role to make your app successful in the market increasing your engagement, downloads, revenues, and brand image. However, unfortunately many mobile app developers and mobile app development company ignore this edge thinking it doesn't make much difference.
User experience refers to the number of behaviors user exhibits while communicating with a website or application. A seamless UX design should be designed so that users can deliver the right experience at the right time and in the right way. According to Statista report, mobile apps are likely in the form of in-app advertising and app stores to generate USD 187.9 billion as a re venues.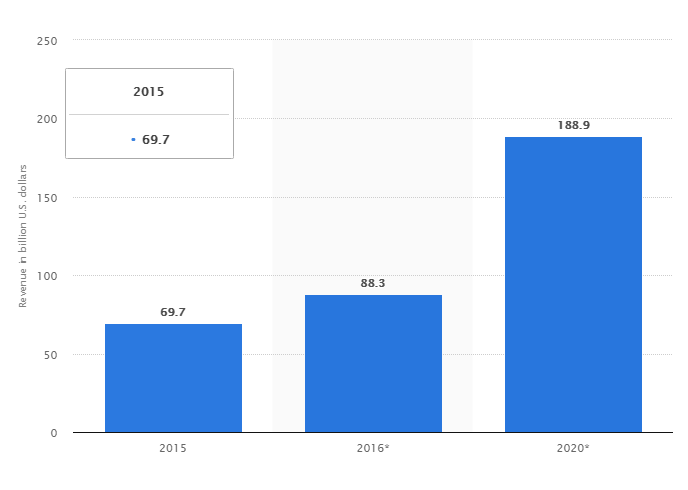 It is known that having a great user experience is important. Mobile apps must have been a long way, but an application with appealing UI and UX design play a major role with positive impact.
Therefore, the consistency of user experience is the difference between effective mobile applications and those that struggle in the market. You will not be able to develop a mobile product, fulfilling a core objective or exceeding expectations, without fully knowing factors like in-app behavior patterns and psychological underpinnings of your target customers.
Major Points to Improve Your Mobile App User Experience
The success rate of a mobile application in a customer-centric market heavily depends on apps UI and UX. Various Android and iOS apps are designed using a set of UI / UX standards, uniformities and standard features.
Therefore, before choosing a mobile app development partner it is necessary for business owners to know the difference between Android app users and UX designs
Use Native Component In Your Mobile Application
The reason you are supposed to choose native is that people know how to use it. For starters, it can be completely complicated for users to recognize an application when you tell how to move from one screen to another. Therefore, it is easy to follow the steps if users already know the native UI element, as they understand the app intuitively.
In addition, because of looking good in native mobile apps, you can incorporate animation, transitions or automation.
Usability is Very Important
Usability includes the layout of information, design, content and other elements that allow users to achieve their objectives within the app. Let your users know what icons they should pick, tap or swipe. Ensure that the movements throughout the device are consistent to maximize usability.
Keep Your App Design Simple
Users of your application have some goals in mind and if they encounter a hindrance in their path, they may get irritated or spend more time than anticipated, losing their way in the meantime.
Likewise, the mobile app's undesirable features and functionality will only push it further. You must therefore have a minimalist design approach to build a basic application.
Also Read: Follow These Steps Before You Build Your Mobile App
Improve Consistency In Your App Design
Getting continuity in the Interface design means that consumers use the same application. The user is sure that they are on the right path with your logo and the header design of your application.
The consistency of the navigation system will equally provide user experience consistency. If you use more unconventional designs in your application, it will hinder your app and your intuition
Improve The Search Feature in Your App Design
Users come to your app with a view to achieving their goal, or find and buy your goods and/or services. If your application does not have enough or poor navigation and it is not possible to find useful links, then users will probably bounce back to the application of their competitor. A search option can be included in the app so that your users can get what their search. All this increases the usability of the device significantly by the simple navigation interface, advanced search and information architecture.
Animated transitions are another successful means of creating a seamless flow from page to page. The user also needs to see an animated change in the application as soon as an operation is done.
Help the users find out what they need easily with a minimal search effort. That strategy will meet there needs and potentially lead to higher conversion rates. In order to guide the users directly to what we want, you are able to integrate search techniques, such as keyword search, bar code scanning, filters, etc.
Test Your App To Patch Any Bugs or Loopholes
Remote user testing method can be the best way to test your application. It helps you to receive input from remote users after your product has already been used. After that, the app development team will continue to ensure quality and get rid of any bugs they may find.
User testing is therefore a great way to view and feel like your users are doing while actually using your application.
Important Push Notifications
Push notifications are not an app design element. However, it definitely plays a major role in the overall user experience. Some noteworthy surveys have found push notifications to sound irritating, but it is the first reason that consumers choose to install mobile apps offering this feature. You will boost the interaction of your client by sending updates.
Page Loading Time Should Be Less
Make sure your app pages are loaded easily and that is it should load less than 10 seconds. Otherwise, customers can leave and uninstall your mobile app because of heavy loading time.
Choose also a lightweight design that means a well-bedded framework and not just the simple style. Create a concise interface for user-friendly use.
Also Read: How Mobile App Development Company Help to Turn App Idea into a Reality?
The Most Important – App Security
We are always downloading apps just to be overwhelmed by a long list of security permissions that we need to accept before we can use them. The consent often includes requesting information from a credit card when there is no integrated e-commerce function into the specific application. Similarly, there are times when we find apps, which are not expressly necessary for access to the photo gallery. These cases can lead to problems of trust and security, which can affect brand loyalty overall. Check that your app demands the permissions required for users to be comfortable and secure.
Conclusion
It is not an easy task to create a good UX since it requires a number of elements, which consistently work for users and business goals.
Taking the considerations mentioned above Fusion Informatics being a Best Mobile App Development Companies in Bangalore, Ahmedabad, Mumbai, India can help you to design the ultimate mobile user experience in a UX-centric plan and develop an optimized mobile application user experience with many components which work systemically to satisfy your users and also meet your business goals too.