Smart Home App Development Solutions & Services
Smart home automation and IoT are creating a lot of buzz in the computer industry and big queries like those that How Much Does It Cost to Develop and Build Smart Home Automation App in 2019. Now everyday life is going to be simplifying, better and more comfortable with the growing number of smart homes and connected devices.
We Fusion Informatics are the Best in the list of top 10 Home Automation Solutions Provider in Bangalore, Ahmedabad, Mumbai, Noida, Delhi and Gurugram, India, USA and Dubai.  Our IoT intelligent and smart home solutions allow customers to use systems for music, video, lights, climate and security for smartphone, tablet, touch screen or keyboard. Our goal is to give customers total peace of mind by building solutions that improve comfort and security at home and this is why we are the Best IoT Smart Home Automation App development Company across Asia, Europe and Middle East.
Smart homes have changed the way people live. Imagine turning ON your AC at your home before you reach your home, interesting right. How about you ask the bot Alexa to play one of your favorite music and even getting weather updates while you are still in the kitchen to prepare dinner. Smart automation can do even more than that – it has become the future of our life.
Well, as a Smart Home App Development Solutions & Service Provider, we design advanced home automation solutions that can design with Internet of Thing (IOT); we strive to create smart homes and smart cities that are economically viable and environmentally friendly through the effective use of available resources
The Future of IoT Smart Home Solutions
By 2020, it has expected that the market for global intelligent home will reach about 40 billion and the number of Top Smart Home Automation App Development Companies will rise as well. Now these intelligent home appliances range from something as smart kettles, refrigerators and dryers to air conditioners and a range of security and safety devices, such as alarm systems and circuit security cameras .
The ease and convenience are what make the system smart home so attractive, and as they have connected to each other, it becomes easy to manage multiple operations. With the help of IoT smart devices in the home, it becomes easy to reduce the energy and costs, all the time saving.
One of the main problems that common people and businesspersons, are facing in terms of IoT smart home application is the increased Cost of Android and iOS App for Home Automation. They have quite high compared to non-connected devices, and so, when it comes to choose the IoT-enabled devices, they are still a bit hesitant. There is no doubt that if the IoT devices will be expensive at first, they are saving money and energy in the future. This is an important and crucial factor to think.
Yet it is said that 2019 and the coming years will be promising for the smart home industry with the rise of IoT Home Automation Solutions and Services.
What It Takes For Smart Home App Development Solutions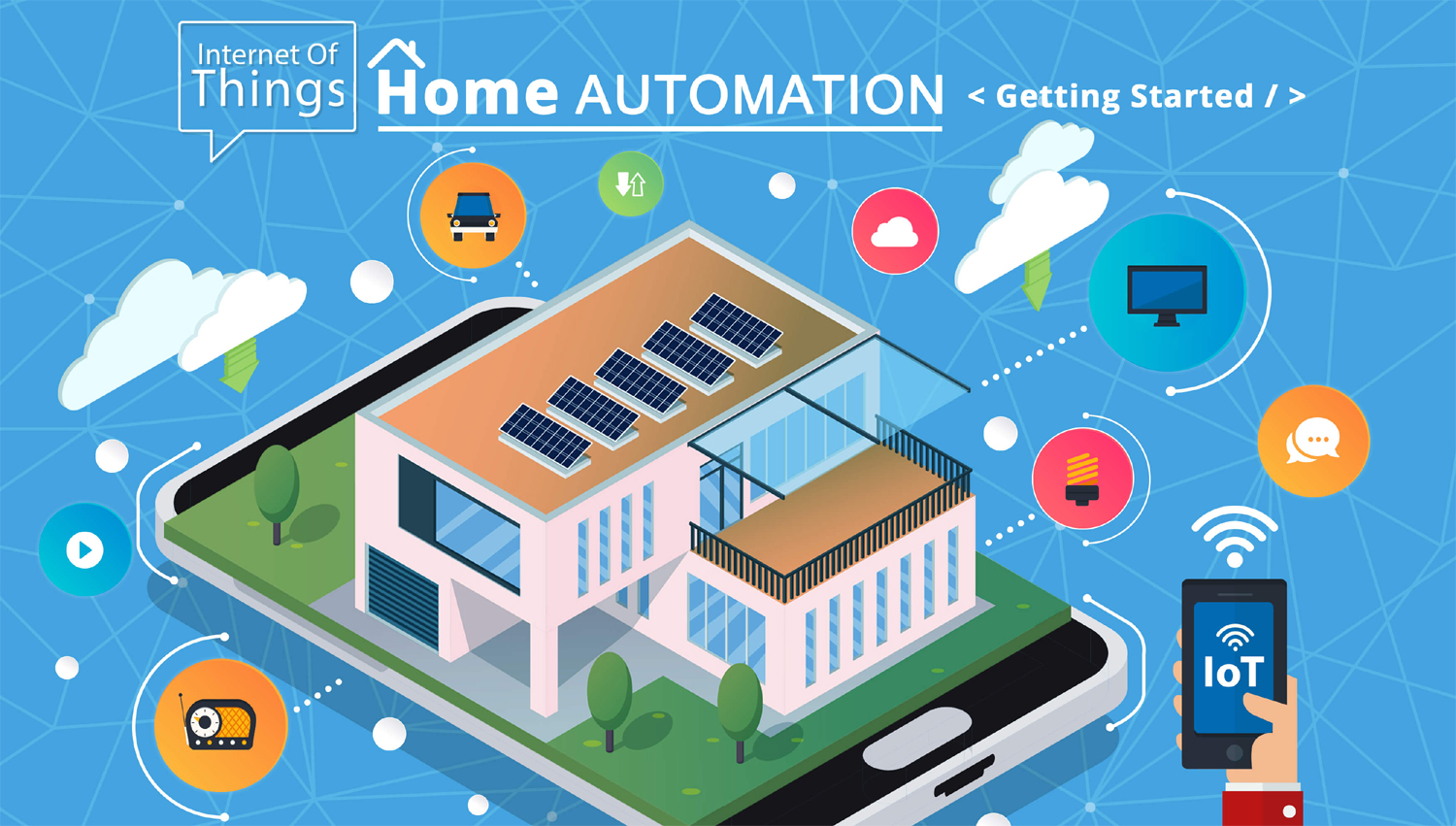 Just being a Best Smart Home Mobile App Development Company is not enough. It is important to understand the issues a user faces. In addition, to solve these challenges, you have too much to plan your idea of ​​the connected home accordingly. Let us try together to devise a plan that helps you create a smart home automation application. Before that, you need to understand what features can make your smart home automation apps.
Check with the design of an application – like your device and application connects to the Internet, make sure that your application integrates Wi-Fi or Internet hardware. It is the main feature of your smart home application. Make sure it works wirelessly.
Access to User Configuration – The primary user of the house must have administrator rights, for which you need to set up the access configuration. In this way, the automation of the house would have the right of access to use and therefore fewer errors.
Making your application accessible – Your app home intelligent development should be made to work the major mobile operating systems and web versions as well.
Sending push notifications – Whether on the water heating system, security breach or light control, the application must send a push notification just in time.
In addition, what are your goals? – The smart home app development should aim towards the type of application you develop. Single or multiple usages will make you solve a real problem.
How much is the Smart Home App Development Cost
In addition to the comfort and safety of smart home automation app promises, it also helps to reduce power consumption, control of air and water pollution and reduces gas bills. Find complex benefits if intelligent applications of the house:
After this damning information, you must be wondering How Much Does It Cost to make and Create Smart Home Automation App. Your request is not so overwhelming! To develop your own application of smart home, you need to understand the requirements, your goal and the number of devices you want to connect. You will find much IoT solution for intelligent home can be built for commercial purposes. Nevertheless, if you want to develop a home automation application, you need a different set up so a different cost.
For example, you must build a smart home app that basic smart home features, like-
Automatic temperature control
Lighting Control
Security monitoring
Therefore, logically, you must build a software application that connects with all smart devices you have. A network will link all the elements to work seamlessly. In addition, the more devices you connect, you will need a robust platform and therefore a higher price and pay more if you Hire Smart Home App Developer. Thus, the cost to build and implement all in one smart home app then it would range from $15,000 to 30000 USD.
In addition, if you need to develop a smart home automation app to a single purpose – such as home-automated security system, the cost will be lower. Therefore, the best way to calculate the cost of developing and implementing smart home is to talk to certified IoT developers.
How to Create the Smart Home App Development MVP
For any application you develop, it is important to create and launch the MVP. This will give you the idea of ​​how users take your application idea. You can simply launch your application with minimal idea, which may consist of the main feature of your application. Depending on the type of response you get, make changes and modifications. You can easily start using your smart app development house MVP reading this guide!
Why US as Home Automation App Development Solutions Provider
We work closely with companies to provide automation solutions for the home such as instant operations using mobile technology, mobile applications and web response. Therefore, whether to adjust the thermostat to the optimum level or management of home lightning based on human presence in the rooms, and we will make your ideas come to life indulgences.
We believe that the development of IoT and integration of artificial intelligence technologies in the connected systems help create the concept of a new smart home environment that predicts what its people need or want and provides the 'truly seamless user experience.
Are you looking for an experienced and reliable Home Automation Solutions Provider as a partner to implement your smart home and IoT project?  Contact Fusion Informatics and share your ideas. For years, we help companies reap the benefits of the Internet of Things and Big Data and integrate intelligent technology solutions in their ecosystems.
Benefits of our Home Automation App Development Services in 2020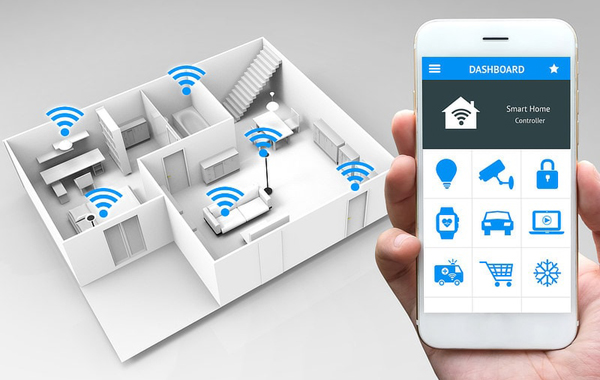 We connect IoT enabled appliances with the cloud, mobile devices, wearable devices and other Internet-enabled devices to provide a seamless experience. The applications are based on pre-defined development stage of the application rules.
Mobile phones and tablets
Make your smart phone / device to make your home "sweet home" with safety, security, savings and convenience at the touch of a finger. Enjoy total home control from any device with the application that can do everything. Turn your Android and iOS smartphones and tablets into the ultimate remote control for your Home Automation control system.
Smart Home customized automation solution that makes it easy to control Smart Home entertainment and media lighting, climate, security and more. Control can be elegant or Keypads Touch Panels, Distant, smartphone or tablet, hands-free voice control, sensor-based operations and much more
The solution is advanced to control any part of the world and integrates Google Map settings for the scene also gives notification of the location of your near and dear.
Control your home anywhere in the world thanks to the Internet using your browser or smart devices. You can check the status of your connected devices, as well as control, giving you full mobility.
Control everything at hand
Control your smart home appliances, including lights, curtains, entertainment system, and air conditioner, heater and safety tap of your smartphone.
Run personalized schedules
Set predefined commands for devices to perform specific actions at some point – be it a coffee ready when you wake up or turn off when you leave the house.
Home Automation intelligent solutions makes your life a healthy lifestyle with temperature control, clean air and water, energy and the use of management of green appliances, safety and security gives you peace mind and less anxiety.
Locking and unlocking door
IoT smart home allows locking or unlocking doors with a unique twist on the phone. Users can see who is waiting at the door through the CCTV camera and unlock the door.
Set the lighting condition or color to suit your mood or allow it to automatically adjust as natural lighting intelligent lighting helps create the perfect atmosphere.
Turn and monitor security cameras with your mobile phone
Once your home security system has been synchronized with the mobile phone, you can monitor the movements and activities in home use. In addition, you can receive intruder alarms and respond via the application by calling the authorities.
Lock your whole house when you leave
One touch of your smartphone locks throughout the house, turn off appliances and lights and turn on the security camera so that you can leave in a moment. In addition, if you forgot to do that you leave the house, you can easily do it while driving or once you have reached the office.
TV and music control systems as they play your favorite music or favorite channel when receiving the command from the user.
Define the most favorable environment by controlling the temperature of the house through a voice interface Alexa or by a finger tap on your mobile phone.
Smart home monitoring allows users to keep a check in and around their homes in real time. This helps to detect and prevent unusual turn's intruders from entering the home.
Features Affecting the Cost to Develop and Build Home Automation
Lighting and Control Scenes
Make the home meet your need. Home Automation allows you to create lighting scenes or depending on the mood. Home Automation provides Lighting, Weather, Music … that welcomes you, says Good Night, Serene Atmosphere, Rocks you or the one you need.
A / C can adjust the temperature depending on the ambient condition or according to the current weather. Saving energy by automatically closing or opening curtains and blinds on the base by hot or cold weather
Control various motorized devices such as Blinds, Shades, Curtains, Windows, doors, skylights, and shutters across smart devices or to those who control the scene frame. Save energy by automatically closing or opening the curtains and blinds depending on hot or cold weather
Make your appliances such as television, microwave, washing machine, coffee maker, kettle, table fan / lamp, Socket control and other electrical appliances in the home automation framework to enable / disable the go.
Indoor air can be up to 10 times more polluted than the outside air. Know the best pollutants. Air purifiers address the growing problem of air pollution in Indian homes. The air purifier technology absorbs harmful gases, without taking the needed moisture from the air.
Experience with automated home through multiple sensors that can be programmed to turn on lights and relevant scenes or electrical devices according to various conditions such as time or light intensity or according to the movement or the occupation of the human being. The sensor sensitivity can be set to ignore the movement of small animals.
Security and surveillance
Home Automation allows you to create the atmosphere of the house, as if you are at home while in fact you are on vacation. The video surveillance system allows you to have a watch that you want. Automatic alerts on SMS / Alarm / Push Notifications you can stay in contact with home for better security.
Answer the door to the backyard or accept delivery still at the office. Your private network hub to communicate everywhere, VDP (video door phone) lets you see, hear and respond to their visitors, you are on the couch, in the car or outside the country.
Elegant Switches / Touch Screen
Home Automation Smart Switch Panel is an electronic control panel / keypad that allow the user to control lights, appliances, blinds / curtains or preset lighting. The touch screen is available in different models depending on the chosen solution. The functions of the touch screen can also be controlled from your smartphone or tablet.
Water garden and control in real time, saving water
You can control the temperature and filters outdoor pools and spas. Your presence that you can activate the sprinkler system when you are away based on the anticipated time or as needed.
The Home Automation audio solution gives you the opportunity to listen to all your different sources of music in as many rooms or areas you prefer. In addition, you can easily enjoy music from any smartphone or device in the house in one of these areas with ease.
How IoT Smart Home Automation solutions Provider Changed Human Lives
It has said that the IoT smart home solutions are able to change the way we live our lives. Some of the important ways in which this happens are:
Time saving: Most smart home products have built with the intention to take menial tasks of people's lives. By getting rid of monotonous activities, every day, people will have more time to concentrate on other important activities.
Saving money: You will be able to save money on operating costs of the house using IoT. You can use the intelligent network integration so you can follow when using the most electricity and save energy accordingly. Along with that, one can even control heating and lighting as well.
Improving the quality of life: Using smart, IoT-enabled automation solutions from the house, you will make your home a place with less stress and reduce costs
Key Takeaway
Thank you for investing in the future growth IoT smart home is already there, and it is rapidly changing. Today we can observe the impressive connected systems for households and utilities that help people to save money, improve comfort and efficiency of their homes and at the same time going green.
Not every house there has made progress regarding the IoT adoption. Many still need to make technological improvements to the most basic levels. Whatever these new technological developments involve, smart home automation is not just about entertainment, but it covers other important aspects of our daily lives – it comes with the potential to change our lives for the better.
The thrust of the smart home applications is obvious. Many start-ups develop intelligent solutions to transform traditional houses in smart homes. They push the limits and creating new possibilities every day.
Can you think you can get ahead of them? We are the Top Smart Home Automation Solutions Provider in Bangalore, Ahmedabad, Mumbai, Noida, Delhi and Gurugram, India, USA and Dubai. We can make it it together today. Drop us a mail at sales@fusioninformatics.com and let us put our best foot forward to create exceptional smart home application and solve the burning issues.
We transform ideas into tangible entities with significant application. Let us hear your innovative thoughts and together we can build and achieve something new.