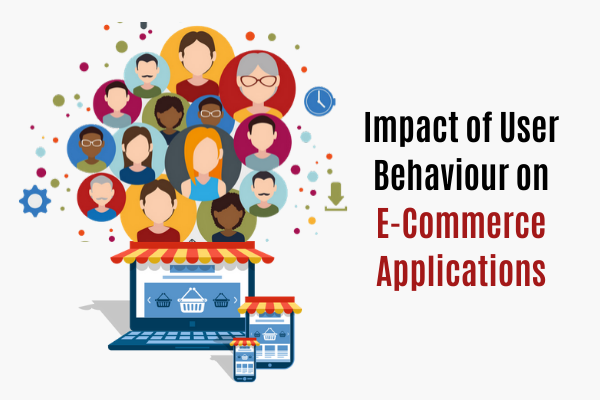 According to Statista, user experience has been one of the biggest concerns of every E-Commerce company. Keeping a track of user performance becomes a necessity when you wish to thrive in this user-centric world. Everyday, more than 40% of the transactions are done online and also, in the past two years, the online audience has increased from 60% to 80%. This has pushed all the E-Commerce companies to adopt technological solutions and have given the users the freedom to access these platforms without having to open the websites. Thus, this gives us an idea why it is so important to have application advancements based on user behaviour.
User Experience in Application
One of the most important things that any mobile app development service providers have to keep in mind is that UX plays a vital role in the application that is being built. In order to keep the customers engaged to the application, it is imperative to keep a user friendly and easy to work on interface. It is important to know what the customer thinks about the interface and make changes according to their suggestions as their perspective gives the designers a better idea on how to deal with these things in the future and gives us a better and deeper insight into the applications.
How do Mobile Applications attract more Users?
When we take the real world examples of companies like Amazon, Flipkart, OLX, eBay, Nykaa, etc., we can see how technological advancement has enhanced since the last decade. This has encouraged companies to come up with something similar to gain popularity amongst the audience. 
Companies are now depending on applications since the technological advancement has hooked all users to their smartphones. It is made sure that this application covers all the prerequisites and gives them a good platform to work on. It is necessary that the company looks out for an application developer who is familiar with the "user experience" concept and how the company deals with it. 

Importance of UX in E-Commerce Applications
There are innumerous advantages of UX in the E-Commerce industry. The conversations about each lead should be done precisely in order to enhance the sales. Here are few important aspects that should be focused on while working on your company's branding:
Using visual elements in an effective way.
Handling operations in a simple manner.
User data security.
Improving apps with feedback.
Good presentations of catalogs/menus.
Making sure essential features are not overshadowed by design. 
Principle Experiences of the User and Strategies 
The key principles for which any e-commerce company works are utility, accessibility, promotion, usability, desirability and branding of a specific application. In such a case, there are other factors as well that weigh into the better performance of an application:
1. Unique Selling Point
Also known as USP, this ensures that your application leaves a mark in the industry and market. The design that you build for your app will showcase the actual value of it. 
2. Target Audience/Users
It is quintessential to know who is your target audience. For example, when you consider cosmetics, your major audience is women aged between 15-50. It's not that men do not invest in cosmetics, but when the numbers are compared, there is a huge gap and you need to be very precise about the target audience before your product is launched in the market. 
3. Sales and Marketing
After the product is launched, it is important to know how this application will be marketed in the industry. Your selling will depend on a number of factors and the key factor being the promotional techniques that you are using. This helps in giving a clear idea to your target audience. The support and product tracking teams should play their parts in order to get better insights of the product. 

This is why the big companies hire app developers who have experience in the e-commerce world. It helps them in getting a better understanding of the audience and their requirements. Hence, it is becoming essential to give the best shot in e-commerce marketing to ensure that companies are growing and making a huge name.