About – Spotify Music Streaming App Development Cost
Who doesn't like music in this world? However, the tempo of life is getting faster and faster, and often there is no time to browse the entire list of music tracks, buy what you like, sort it into playlists, and all that jazz. For more than a decade there have been more than 100 million users on the well-known on-demand streaming mobile Apps like Spotify that has made a mark in the music streaming apps industry.
The main purpose of this blog post is to give an explanation of the topic of creating a Spotify clone, what stages will involve, what features will be added, and what critical factors you should consider if you are worried about How Much Does it Cost to Develop a Music Streaming App Like Spotify– all for building music streaming app.
Currently owning a smartphone is also synonymous with listening to music. With so many customers who are also easily accessible and how much Does an App like Spotify Cost is a hot discussion now.
Spotify's music streaming platform came to the top in 10 years and now available in many countries of world. Along with the development of music applications, especially the development of music streaming applications, many entrepreneurs will develop music applications and ask themselves why Spotify is successful and how much they will spend if developing a Spotify like clone apps script.
As the music streaming, business is on the rise because people do not need to download anything. In this article, we will discuss estimating the development cost of making Streaming App like Spotify. You must ensure that the development or creation of the Spotify clone app as a music-streaming platform is quite time-consuming and expensive process that requires a unique solution.
We will provide you with a comprehensive guide on how much does it Cost to Build Music Streaming App Like Spotify so, let's go deeper.

Spotify Model and its Cost of Creating App like Spotify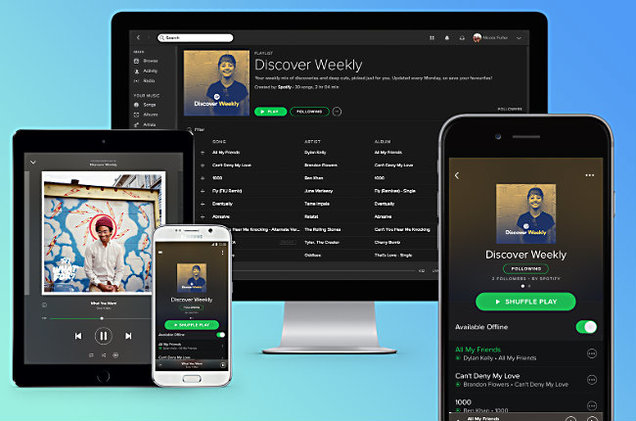 How does one start developing music streaming apps like Spotify? Look at certain factors or things we have discussed above and these factors are very useful and help you if you are serious about the idea of ​​building your own music streaming application. Spotify's success has prompted several application developers, music streaming apps development companies, or startups around the world to build similar applications such as Spotify and emulate this success.
When developing music-streaming applications, developing a Backend system is the most complex thing. In addition, the architecture for building the Spotify clone application requires creativity and knowledge to make it run on different platforms and devices. Our web, Android, iOS and Cross-platform experts provide strategic consulting before developing mobile applications. If you are thinking of developing a music streaming application or Spotify clone app, you should always remember these points. Hire music streaming Spotify Android app developers and Spotify iOS app developers with a flexible model for an intuitive and interesting music streaming application with benefits.
Our Value Proposition:
Free Technical Consultation & Experts
Strategic Implementation & Development
Customer Approach Center
Timely & Regular Reports
Effective Client Communication
Complete Transparency about Achievement Results
Care & Technical Support with fast completion time
Before understanding the Spotify model, we should know that there are various music streaming applications on the market.  In which Spotify has dominated them such as streaming music apps like Apple Music, Sound Cloud, Deezer, Apple Music, jioSaavn, Google Music, Amazon music, YouTube music and Pandora are the most similar apps like Spotify known as a popular music streaming mobile applications that allows users to listen to music directly from the cloud without downloading it. Some applications allow you to listen free, while others charge fees for premium accounts.
We can now make a rough estimate on how much does an App like Spotify Cost will depend on the total time needed is at least 520 hours from the time of development. Therefore, development costs will be around $ 15-20 K.
Know about How Music Streaming Apps like Spotify Work
Spotify is basically a music streaming and music playlist sharing service that is available in more than 50+ countries and has been built using music application development by carefully analyzing people's requirements. It has more than 32 million songs in its library and works on almost all devices. Using Spotify, users do not need to download songs and save them on the hard drive to listen, they just need to find a song or album and play it online. Of course, for this there must be a faster internet connection on mobile devices.
Stages of developing music applications:
Marketing research
Prototyping
UI / UX Design
Preparation of technical specifications
Music application development
Testing
Release and music application support
Spotify runs on all operating systems, including iOS, Android, Windows and Smart TV supported. Users can access their favorite tracks from more than 30 million songs / songs free by logging in or entering an account. Spotify offers free and premium accounts that carry different properties. In a free account, you cannot download songs to listen to in offline mode, and you will get unwanted advertisements while listening to music. However, premium accounts are not restricted. The monthly subscription for premium accounts costs $ 9.99. This price includes unlimited access to a large music cabinet.
Basic Features affecting the Cost to make Music Streaming App like Spotify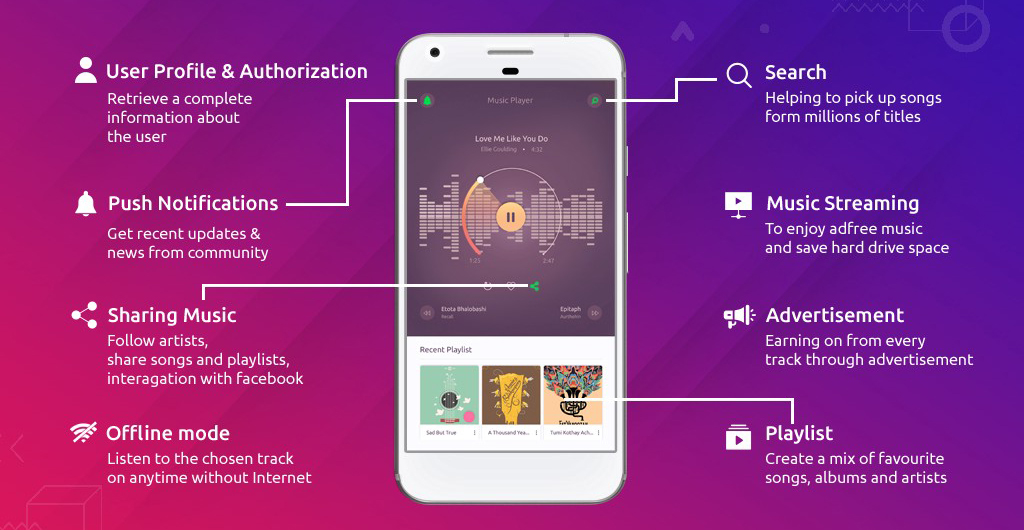 What makes Spotify the top best music-streaming app in 2019, 2020? Its attractive design and functionality make it better. Let us discuss the features of the music streaming application.
Registration: This is an important feature if you offer premium accounts. You can request information from your users. To log in to the mobile app and access a large collection of free music, users need to create an account by providing basic information, including Name, Email ID, Mobile Number, and Age. By registering yourself, users can open advanced features of the mobile application.
User Profile: In this section, users can provide their information to the admin. Users can also update their profile by making changes in their information. In user profiles, users can set their music preferences.
Social Sharing: It is said that success comes through promotion. Social sharing features play an important role in business success. By giving your listeners the option to share their favorite songs, tracks or playlists directly via WhatsApp and Instagram Direct Message
Online and Offline Access: Access to online or offline content is very important to stay longer on your listener's smart device. Access offline, this is the best feature that allows your listeners to enjoy their favorite songs or songs without relying on an internet connection. Online access will allow your listeners to access all the latest content easily and even they can download songs to be accessed in offline mode.
Discovery and Search: Discovery or search is what you prove to users of their choice. This important feature allows your users to find songs or track their choices. In this case, users can search for music based on artist, song, album, podcast or genre.
Recommendations: This is the best way to connect with users. You can add this feature in your music-streaming app to recommend songs according to their search. This feature will help anticipate users' music choices and make recommendations based on the same thing.
Make Playlist: You provide a platform for your listeners to enjoy the music application features. Thus, creating a playlist is what you allow your users to store or add to their favorite songs in one place. The songs saved can be accessed directly or you can make a number of playlists of your choice.
Push Notification: Push notifications are not a must-have feature, but the most useful features through which you can amaze your listeners through amazing offers, newly added songs, discounts, and more.
In-app messages: Messaging in the application is all about interacting with others through private messages in the application itself.
Now you understand how to develop a music streaming application and Cost to develop Spotify like an app. However, the price problem persists, depends and varies.
Advance Features that affects the Building Cost of Music Streaming App like Spotify
Continuous innovation makes the Cost to Create Music Streaming App like Spotify cheaper in the coming years. Therefore, to turn into a profitable investment, we need to spend more on the unique features that the previous application lacked now and then applies the Application at the right time to make a profit.
The application developer in question can also consider adding some good features to make it more interesting like
Allows users to order tickets for upcoming music events in their city and this will actively change more profitably for sponsors
Includes chat function.
Calendar of events throughout the year
Themed radio stations to capture / user's favorite stations are broadcast live
Option to select or mark songs as favorites to access anytime
Now after mentioning all the features in the music streaming apps, it is time to realize the languages ​​and platforms that can be used by Application Developers to implement this dream come true. Let us move to certain segments one by one.
Are you looking to Build Music Streaming App like Spotify? Share your requirement to "Get a Free Quote"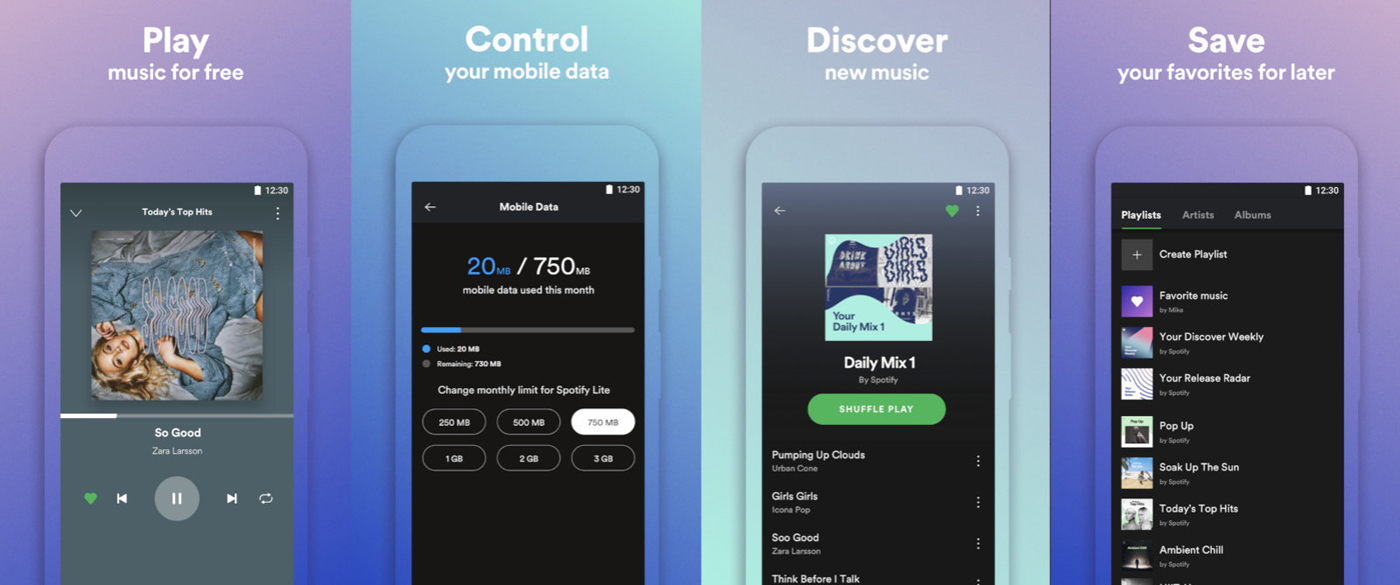 How to choose Spotify like Music Streaming App Development Company
The Cost to develop Spotify like app based on various factors. Whether it is development, marketing or licensing, companies developing any music-streaming app Development Company or music streaming Android app developers cannot come at the right cost. The total cost of developing a music streaming application depends on features, design, technology and platforms.
The current standard per hour ranges from $ 30- $ 40 which can be considered a good offer for this kind of application. Costs also include paying for UX / UI designers, Quality Assurance and Testing Teams because it is as important as back-end developers are. The cost of developing a mobile streaming application for music requests depends on location factors
There are various music app development companies on the market for an hourly fee. Thus, location is also important, app development costs also depend on the location where the application being developed. Comparison of application development costs in detail. As,
US-based companies or developers cost $ 140- $ 240, not including QA.
Companies or developers based in Western Europe – $ 110- $ 170, excluding QA
Company or developer based in Eastern Europe – $ 120- $ 200, not including QA
India-based companies or developers cost $ 15-30, including QA.
The expected development cost of the Spotify clone app is around $ 25,000 for Android and $ 35,000 for iPhone app and $ 15,000 for websites.
Do you want to create a music-streaming app? Do not hesitate to contact us and share your ideas
Conclusion
In this blog, we consider the main costs of building a music streaming application like Spotify. Because Spotify is not available in many countries, there are large, unmet requests for similar music applications.
Therefore, the initial cost of building simple Spotify like music streaming apps starts at $ 15,000 and can only increase if you really want to build a music streaming application that has the full potential to be successful, then you have to do thorough research and include all the features and benefits that Spotify offers to users. Even though it is a difficult task but it is not impossible at all. You just need to make the right plan and implement it carefully.
Hire Music Streaming App development companies in India, Bangalore, Ahmedabad, Mumbai, California, Dubai and Africa if you want to build your own music streaming apps like Spotify, you have to take into account back-end costs, costs for development on Android and iOS and fees for additional tools. In addition, more than that creates additional features that make your application unique because building a clone music application is not a good idea.
Estimating our total costs takes an hourly rate of $10 to $15 but this price depends on the developer's skills and can vary because the estimated costs much generalized. Contact Fusion Informatics team at sales@fusioninformatics.com if you want to calculate the cost for a music streaming apps accurately.