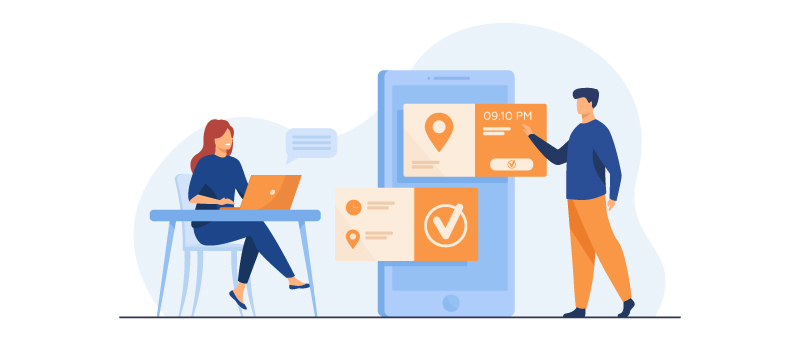 If you are a healthcare provider looking for creating a state-of-the-art healthcare mobile app that can liberate you from the downtime experience and elevate your healthcare business, Here You Go!
We will tell you why it is important to be industry-ready to sustain your business graphs while having a competitive edge over your rivals in the market. Just like the popular healthcare app Zocdoc. And, how much it'd cost to develop a mobile app like Zocdoc? We will explore now.
Inside Playstore
Look at the three images below. How far can you visualize your experience? If you got an app, just like what you see here, how would your users benefit?
This is the screenshot of the actual image as appears inside Google Playstore and how an app like Zocdoc is seen online.



Thus, you provide healthcare services to your target users, patients, and all your service seekers who need a reliable healthcare service at their convenient reach, within seconds and upon the click or tap of their mobile devices.
What Is Zocdoc?
Zocdoc is a popular on-demand mobile app, an online healthcare/medical app that provides patients with the telemedicine facility to schedule a medical appointment with doctors or specialists on a specified time, remote basis, or in-person in the clinic. The app allows users to search for doctors in their areas, confirm about the insurance aspect (what insurance they are accepting) and then book the appointments. As per Statista report, the global mobile medical apps market was valued at 2.4 billion USD in 2017 while it is estimated to grow to a whopping 11 billion USD by 2025. What a journey!
How Zocdoc Works?
Providing access to certified medical professionals, doctors, specialists to facilitate online appointments and real-time consultation for patients.
Users/patients can search for local doctors, healthcare providers, and specialists like dermatologists, dentists, gynecologists, eye specialists, etc.
Patients can find insurance coverage and eligibility criteria. All are possible within the app facility. For example, insurers like Metlife, Ambetter, Humana are eligible for this app.
The Cost Part
Do you know, when you decide to develop an app for your business, several factors are involved?
To develop a healthcare mobile app just like Zocdoc, you can expect the range somewhere from around a few thousand dollars to millions, and all these depend upon the specific features, mobile app types that you intend to incorporate. Of course, you need thorough guidance (consultation is a small word here) from an expert mobile app development company for estimating the cost as per your specific requirement. Worth knowing is you don't have to incorporate every feature in your app, just put what you need and pay for that part only!
The company  Zocdoc provides access to its platform through a dedicated website or its mobile app/application-specific for Android and iOS platforms.
Prior Considerations to Build Your App
The App Type
The App Design (Basic, Individual, Custom)
The App Platform (iOS, Windows, Android)
The App Features
Total Number of Pages
Thus, a healthcare mobile app like Zocdoc is developed/created in 3 significant steps:
Discovery,
Design, and
Development.
And these steps incorporate the points mentioned under prior considerations!
Factors for Cost Estimation
There are varied factors that decide the cost part of an app like Zocdoc. They are:
1) Specific Requirements- If your app needs more features, more money to build. Simple requirements will not ask for a bulk investment because it won't take much time as no complex features are included.
2) App Platform- Cost varies as per platform chosen. The cost of iOS app development is higher than that for Androids.
3) Total Features- As you increase the number of features on your mobile app, the time to develop it will increase as so will be the cost.
4) Timeline- If your app takes much time to build, it is said to be a complex type that needs an extended timeline. Your app might need more research time, more time for designing, building, and testing as well. Fewer features need less time, hence less cost.
5) Team of Developers- A complex app project needs a larger development team, which means more time, and money.
6) Location of App development– Location matters while deciding the cost part of your mobile app. Your mobile app development company can onboard developers working remotely at the global level and resources demand specific perks depending upon the countries they reside. According to one study, North American is considered the most expensive location for app development process/work. India is comparatively lower in terms of cost for developing an app like Zocdoc.
7) Target Audience/Market- If you are developing for a very niche audience, for a specific location or set of communities, the cost may be less and cheaper than if you target for a larger audience (you will have to go for translation features, etc.).
8) Pricing Model for App Stores- The pricing models differ for Google Playstore and Apple App Store. That might lead to your final cost destination. Do thorough market research to conclude about benefits and app costs.
9) Programming language- What languages for app development your mobile app development company chooses influences the cost part.
10) Integration with Third-Party – If your app has inbuilt integration with social media tools, payment processors, and other services will determine the cost development, as it demands more time, more money.
11) App -Maintenance- Post launching your app, it needs constant support and updates. However, this phase won't ask for more expenses but depends on how many features you need to modify, upgrade depending upon the Users' reviews and the app's impact on them.
APP Features like Zocdoc
Your specific medical/healthcare mobile app should have features like the Zocdoc app. They are:
Registration/Login Functionality
Information Gathering Feature
Scheduling Functionality
Reminders
Appointments Cancellations/Modifications
Easy Navigation &Accessibility
Video Conference Option
Push Notifications
Payment options
Map integration
The integration of the above features adds to your cost estimation, too.
Budget Estimation
Based on varied trusted sources including Fusion Informatics, a mobile and web development company you can depend on for your app development needs in the future, the following detail we can share with you:
Development Cost – Between $25,000 & $50,000 (based on the complexity of your app/ project)
Design Cost – Between $10,000 & $25,000 (based on number of pages and changes required)
Cost for QA Testing – Between $3000 & 5000 (based on testing done on varied devices, browsers, and then identifying bugs as well as optimizing the platform)
Marketing Cost – Between $5,000 & $30,000 (based on target market size and branding strategies)
Maintenance Cost – Between $5,000 & $15,000 (post-launch phase and based on updates needed)
Overall, the Cost to Develop Mobile App like Zocdoc would come around anywhere between $80,000 & $150,000.
Explore with Us
The idea is, do your basic research. Read multiple reviews from varied clients and customers who are using an app just like Zocdoc. Make comparisons. Read from business perspectives as well as patients' perspectives. Form an opinion. If confused, do not hesitate to contact a reliable technology company dealing with the mobile app development segment.
Contact Us and Get Started for your remarkable mobile app development journey that will change the landscape of your healthcare business.