Task Rabbit – Home Service Marketplace App Development Cost
Home service apps like TaskRabbit have developed into one of the on-demand domain's most competitive markets. Not only the end-users showed interest in the segment because of the ease it offers them, but also entrepreneurs looking for a high-income business model that is centric. The competition created for itself by the home service economy has led a number of businesspersons to become interested in entering the space with the goal of governing the thriving class of on demand.
TaskRabbit is an on demand online home service marketplace app that allows users to find help for their daily jobs such as cleaning, handyman, gardening, animal care, plumbing, carpet cleaning and much more in their surroundings. This leads to a consultation stage between the lab and the clients. Recognized as the advantage of people with more money than space, it allows people in their society to outsource small jobs and activities to others. Helping people take their lives back, be their own boss, help people out, and make some money.
Many of these apps have followed the footsteps which means you have all of the possibilities to disrupt the by developing an on demand house service app for that niche you function in but what matters is the how much does it Cost to Develop App like TaskRabbit, Handyman, Streem, Timesaverz, Fumble, Thumbtack, BrightNest and Urbanclap. These are examples of similar applications that provide services ranging from cleaning, grooming, laundry, pest control, appliances, repairperson, home maintenance and repair, yard work, construction and installation.
The purpose of this article is to get an idea of how much the entrepreneurs in this on-demand field would have to pay to earn millions. While the context primarily surrounds getting you a response to TaskRabbit like On Demand Marketplace Home Service App development cost in San Francisco, Indianapolis, California, Los Angeles, New York, charlotte, North Carolina, Chicago, Illinois, Detroit, Phoenix, Arizona, Houston, Texas, Washington DC, Michigan, USA . We will also look at some other key elements to consider when building on-demand apps like TaskRabbit.
In this article, we will look into the market that TaskRabbit has developed, while giving you the answer to how much does it Cost to Make TaskRabbit like Marketplace App, its model and features associated with it.

Home Service TaskRabbit App Development Cost And How It Works?
A TaskPosters post a job and TaskRabbit suggests three contractors, together with their hourly rates, representing a range of prices and level of experience.
Tasker may approve or cancel the job in accordance with its convenience and availability.
The Tasker completes the job and collects the payment via the app.
After a thorough background check, all taskers in the TaskRabbit database are thoroughly talented and checked. A TaskPosters can review and rate the product after completing the task.
Once developed on Native systems–like on an individual Android or iOS app–the Cost to Build App like TaskRabbit will be much more than the one built on a cross-platform system such as React Native or Flutter.
While the process of fixing the design after completing the Design System and UX testing process is typical across all aspects of the device, it is the form of inclusion of design elements that increases or decreases the cost of on-demand home services app.
The more thorough and revolutionary the layouts, the higher the Development Cost of App like TaskRabbit. The team structure that would be involved in its creation process is another aspect, which helps in determining the Cost to develop TaskRabbit like app.
Model & Cost to build TaskRabbit like Home Service App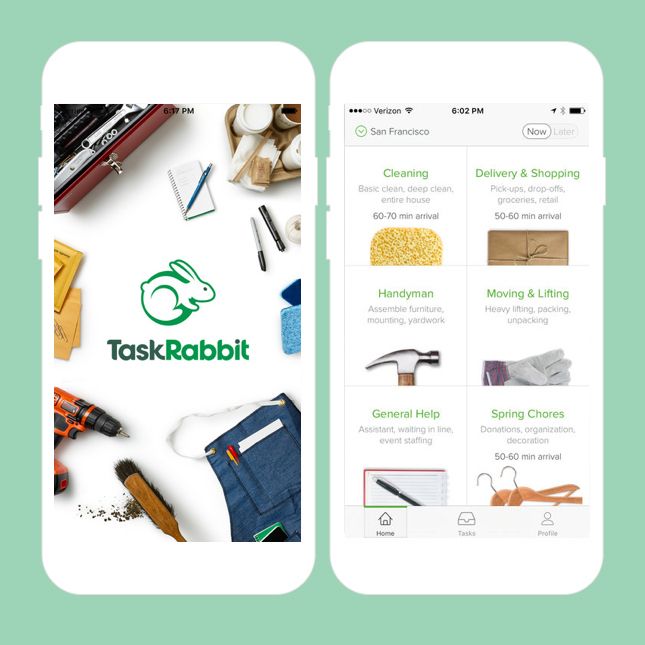 TaskRabbit monetizes by deducting half of the payment as its service fees (about 15%), which is the only way TaskRabbit earns so far. There are two consumer touch points that shape the axis of services provided by TaskRabbit. These are Taskdoers and Taskposters:
Consumers who wish to outsource such errors can post their requirements on the website of TaskRabbit. Contact the available task managers (or project managers) through TaskRabbit platform. Upon successful completion of the project, payments can be made through the app.
By signing up to be part of TaskRabbit, anyone who is underemployed or requires a job can make some extra money. To be chosen as a Tasker, the context of the task is reviewed, interviewed and questioned.
If you want to be involved in this company, there are many features to be evaluated. If we proceed to the costing part, the Cost of Creating on Demand Marketplace App like TaskRabbit can range from about $15,000 to $30,000 and it depends entirely on the OS platform. Nonetheless, a full estimate would give you an accurate idea of its price, as it depends entirely on the designs and features you want to integrate into the app.
The Cost of Making Home Services App like Task Rabbit will rely on a number of factors, but the most obvious are the choice of platforms and the cost of designing mobile apps. Now if you choose to follow the whole set of technology and the feature lot we mentioned in the article, the cost of developing the TaskRabbit clone app would be in the approximate range of USD 25,000 to USD 40,000.
We are one of the Best Mobile App Development Company; Fusion Informatics will create applications that suit your budget. Contact Fusion Informatics today and get a quick quote in your budget and timeline to develop an application like TaskRabbit.
Benefits of Home Service solutions like Task Rabbit, Handyman
Here are some of the important and key benefits of On-demand home services Apps like Task Rabbit, Handyman, Streem.
Registration: Users must login via their personal email or social media.
Scheduling: Users must schedule an appointment for the necessary service once they have registered.
Tracking: Users will be told about the dates, plan, and ETA of their appointment.
Payment: The client must pay through digital gateways, debit, or credit cards.
Rates and Reviews: Users may leave their product reviews.
Basic Features Stirring the Cost to make app like TaskRabbit
Below are the major functionalities, which affect the Cost of Developing Local Services App like Task Rabbit.
Easy Marketplace: The first most concrete feature to be present in your on-demand service apps like TaskRabbit is the marketplace. You should provide users with a list of services to choose from in the opening screen itself. This feature should be a platform to show all the services you offer.
View, Make Reviews & Ratings: In the entire booking process, the ratings and feedback that the service providers collect from customers play a very important role. The more ratings and positive reviews, the more bookings a service provider bags, it goes without saying.
Booking:
Booking feature for end-users: End-user booking feature: Users would use the app to immediately book a service or schedule it later. If they are not available in the period, they will also be able to reschedule the operation.
Booking feature for service providers: The service providers can view the bookings they have provided through the app. We will also have the option to either approve or cancel the reservation.
Booking History: This is the functionality that would allow users to access the bookings they made and the amount they paid for them, together with the details of who the service providers were.
Help Section: The communication line should be kept very open between your stakeholders and you. The application's support or communication page should be clearly presented in the menu list, so stakeholders do not need to spend time looking for it.
Service Invoice: You must give users the product invoice once it is done. You can also send them the invoice via email or a short version of it via SMS as well as providing a separate section under the Orders tab.
Share Application: The option of sharing the app with the network on social media, while entirely based on marketing front, will give millennial users a reason to appreciate your application.
Every single one of the world's Home Service mobile app development Company will inform you that, as far as every on-demand app goes, there are three iterations that make up one venture–end-users, service providers and administrators.
Leading Features affecting the Cost to Create Task Rabbit like App
B Push Notification: Any discussion of advertising and user interaction without referencing push notifications would remain incomplete. Push notifications have a number of uses in the mobile environment, ranging from notifying customers of their booking status to winning back users who no longer engage with the program.
Tracking Service Providers: The feasibility of monitoring the service providers should be provided to your end-users–where they have reached and how far they are from the destination. This will give you a clear idea of when to plan for the tour.
In-App Chat: There is no argument about the dominance of messages over calls. In the on-demand home services, the same importance is also preserved.
In-App Payment: While you can always give users the option of paying for the services from home, nothing stacks up to the convenience and ease of providing an in-app payment feature.
Looking for Home Services Clone Apps like TaskRabbit? Please Share your requirement to "Get a Free Quote"

How much a TaskRabbit like Home Service, on demand marketplace app Cost?
The main question raised by business owners is how much does an App like TaskRabbit Cost? The response is that it is obvious that there is no estimated value. This is because the final Cost of App like TaskRabbit is influenced by many attributes.
When technology evolves, we've also progressed from trusting online people to trusting in credit card details, now we've reached the third trustwave which communicates with trustworthy strangers from all kinds of marketplaces.
The Taskrabbit app development cost varies from $15,000 to $30,000 (depending on the OS). This app is scalable and may add up to the cost of adding more modules to increase usability in the future. Such features can include Facebook messenger BOT, feedback & ratings, improvements to a built-in payment gateway to increase payment mode, recommendation algorithm, dedicated panel for job bidders & work providers, bidding algorithm, admin panel backend and so on.
Ready to Create Your Best Home Service App in 2019 – 2020
Apps such as Taskrabbit operate like umbrella concerns, trying to ease various jobs and react within budget and timeline. These are an online and mobile marketplace that enables users to get help with their daily tasks such as washing, distribution, plumber, yoga instructor, wedding photographer, moving and handy services, home help, cook, painting, renovation, maintenance and facilities, etc.
All you have to do is Hire iOS/iPhone and Android Home Services App developers. As stated, with the exponential growth of mobile technology and connectivity to advanced internet services, we are moving toward the digital equivalent to virtually every service that we need in everyday life. Undoubtedly, on-demand apps like TaskRabbit will continue to grow to meet the rising demand and ever-evolving desires to be fulfilled quickly and easily.
The way we communicate, contribute and consume these resources has already changed. Moving on, you can see defining new roles and advanced features. In addition, this would encourage existing players to further grow their base and new players to come up with exclusive and niche class deals to change the game forever. Contact us to know the TaskRabbit like On-Demand Home Services App Development Cost in Bangalore, Ahmedabad, Mumbai, Noida, Delhi and Gurugram, India, San Francisco, USA, Dubai, UAE, South Africa.
We help our customers make their business grow better and give them the best and creative ideas. If you're interested in building an apps like TaskRabbit then Hire Us Today!