Legal Resources App - Success Story

Client: Law Suit

Industry: Legal

Challenge Area:
Making available vast legal data under a single roof.

Business Impact:
Increase in sales
Reach other cities by providing value-added services
Client Introduction
Law Suit is a legal application comprising of the Indian Case Law Research System. The application is meant for users that want to browse judgments passed by the Honorable Supreme Court of India since 1950, as well as the Honorable High Courts of India and Private Councils since 1840. While working on a legal matter or while researching for one, it gets quite difficult to gather information regarding the same as the wide range of data is available. Finding a reliable source for all the information is quite tough, so the Law Suit was developed to mitigate these challenges.
Challenges
Making available vast data under one roof
Getting information on legislations, judgments, relevant acts, a summary of their professional at a single click, and central location.
Finding relevant acts, summary, etc.
Making sure all the data provided is reliable
Developing an interface that can sort out the data and make it easily accessible to users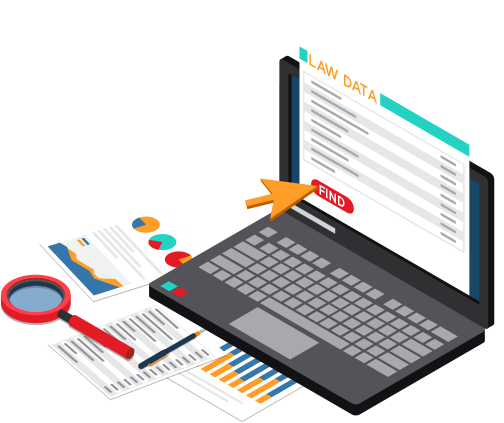 Strategy
The strategy involved defining the project vision and analyzing the competitors & market. We then analyzed our clients, what they want, and what we can give them. Once the application requirements have been defined, project documentation for its functionality was prepared. This is one of the most critical business analysis tasks. The mechanism of users & interaction with the application was then explained with the underlying logic of its work. After carefully considering all the essential aspects, we managed to develop an application that ensures proper privacy policies before entering any personal data. Design of packages in a way that region, courts, city-based customers can purchase the subscription and manage the previously-stored judgments. They can do bookmarks/notes for those judgments which are available to the respective users.
Key Features
An application that has all the cases and judgments passed by the Honorable Supreme Court of India since 1950, as well as Honorable High Courts of India and Private Councils since 1840
Easy to use interface that allows optimum use of all data
Despite having so much data the application would not take up much space on the user's devic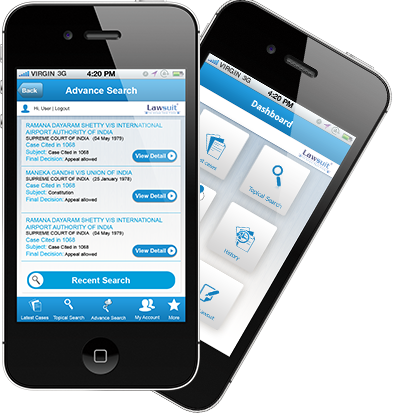 Achievements
Through mobile app sales numbers were significantly increased as compared to previous state.
Engagement to customers was was high by providing useful case alerts
Out Reach was higher to other cities by providing value-added services