Client: Consult a pro

Industry: Healthcare

Challenge Area:Collaboration between Doctors and Patients

Business Impact:
Increase of 30% in online booking appointment.
Increase 15% revenue of doctors.
Reduce 10% traveling and operation cost for doctors.
Client Introduction
Consultapro is a medical application that connects patients and doctors. The app is developed with the aim to improve the patients' communication with doctors and vice-versa, at the same time, providing doctors with the valuable information they need about the patient. It enables patients to get in touch with doctors anytime, anywhere. Consult a Pro is particularly useful for doctors and patients who are trying to keep more accurate records of their health. No matter wherever the patient receives the treatment, doctors can analyze and monitor their health.
Challenges
Hard to get a specialist or doctor in an emergency.
Difficult to find trustworthy doctors.
Long waiting period for consultation.
Inconvenient time and long-distance for a physical visit.
Missing third specialist opinion and exchange of data.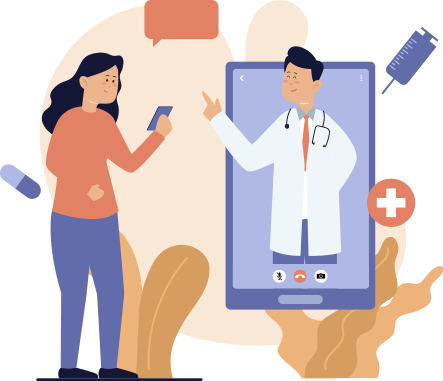 Strategy
The journey began with understanding the client's target market, comprehensive analysis of the current process, we developed the list of features, we had consulted several doctors, nurse, charted accountants, and other professionals who provide in-person services to their client and validated/suggested changes in the process which client have suggested us. This was followed by identifying the early stage wireframes that demonstrate the visual architecture of the app based on extensive research and competitor analysis. Later we defined the project scope and outlined the expectations to have clarity on deliverables. Based on our holistic approach, Consult a Pro was developed that allows the users to choose the type of doctor they need to consult along with their profile to understand the doctors in a better way. One can exchange reports through phones and seek advice while the course is going on.
Key Features
Developed capability to do video/audio/text consultancy with affordable rates where the client can gain some profit.
Provided various statistics and reports to compare what is in demand vs availability of services and service providers.
Retain data and context seamlessly.
Rating and reviews for service providers and service seekers.
Paid listing get priority listing in search results.
Verified the professional process.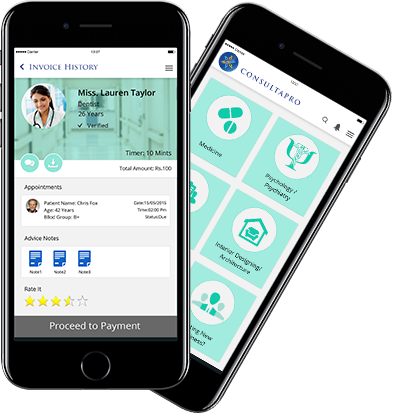 Achievements
Online booking appointments saw a spike of over 30%.
The revenue for doctors Increased by more than 15%.
Doctors were able to reduce traveling and operation costs by10%.
Health professionals enhanced their reach on digital platforms.
Doctors were able to manage their time efficiently and as a result, productivity increased by over 20%.