Client: Modak

Industry: Retail E-commerce

Challenge Area:Bridging a gap between Home cooks and Foodies

Business Impact:
Rise in sales revenue by 30%.
Reduced the operational cost by 10%.
Increase of 20% chefs network on the platform.
Client Introduction
Modak is an application that allows authentic home-cooked food prepared by native home chefs in a clean and hygienic environment to be delivered to one's workplace in an insulated tiffin box across a wide range of locations. The client serves a customer with hot food that changes the mouthfeel and enriches the taste buds. The app was developed with the aim of enabling users to register as a home cook and offer food delivery services, or as a foodie and order food delicacies for home or office delivery.
Challenges
With so many passionate home cooks present around the city, it was tough to integrate an extensive database
Every recipe facilitated one or more recipe images, increasing the probability of the app becoming heavy with slow loading time.
Due to the presence of so many filters, we had to ensure that every single filter works effectively well.
Strategy
Our client wanted a food delivery app wherein home chefs can deliver tasty food by listing themselves in an app, and earn money for delivering hygienic food. Also, allow food lovers to order hygienic homemade food. After comprehensively analyzing the client, its target market, and business processes, we understood that there are a lot of Indians and migrants living in the USA and they miss the local authentic food. Apart from that, there are women who can not do the job but are good at making local food and have enough time to spend and earn money. Modak is trying to bridge the gap between these people and home chefs by providing local authenticate homemade food. Based on this we finalized the features that can be integrated into the app and allow the customer to choose from an extensive list of home cooks or home chefs offering a wide range of cuisines, within proximity or city limits.
Key Features
Home chefs and users panel to enable secure login into the app
Integration of Google Maps for home chefs to get listed, and for foodies to order quickly
Push notifications to notify customers and home cooks regarding delivery status
Interactive UI with minimal colors that make the app soothing to operate
High-quality images make it for an aesthetic food items view
Reviews and ratings allow the app to be more social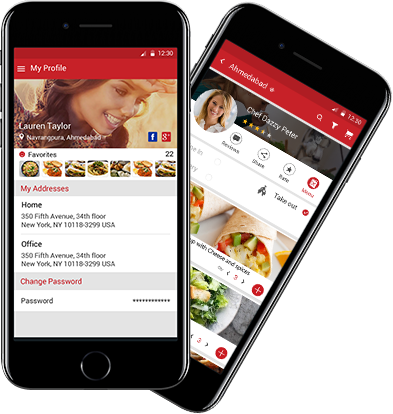 Achievements
The app helped to increase the sales & revenue by 10%
The operational cost was alleviated by over 10%
Augmented reach and services were extended to 5 more cities
The rise in the home chef networks and food options by 20%