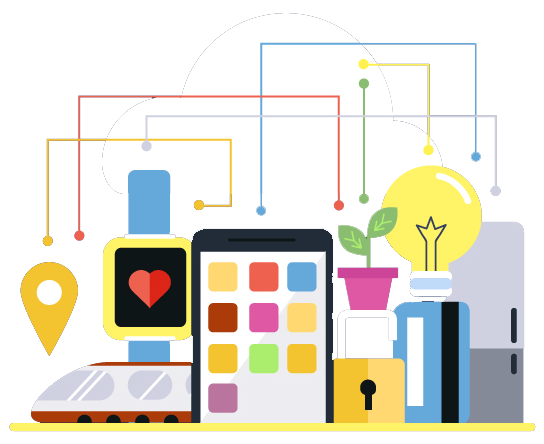 The revolution in advanced technology has improved gradually, beginning with its interconnected devices and automatic devices that needs a network connection.
The Development of Internet of things applications for Business devices to transform data that allow communication between devices.
Fusion Informatics is one of the leading IoT App Development Company in the Netherlands across the other Internet Development Companies in the Netherlands. Our team of IoT app Developers constantly investing the time towards building creative IoT applications for future business.
How Internet of Things work for Business?
Internet of Things is a device that collects data from smart sensors installed among devices and transmit data through an internet connection. From increasing productivity by decreasing operation cost. IOT app development Company in the Netherlands allows your business with a perfect set of connected IoT specific development devices and abilities that present the best marketing sense. They are four distinct main components integrated into IoT Ecosystem.
Cloud
The Advanced technology machine learning takes place in this role where process blending and processing data employed in the analytics to share insights (which demand growth of extension in the productivity)
Connectivity
All gathered data will be transported to the highly secured cloud via an internet connection there are various connections available to transfer with Wi-Fi, cellular, and satellite.
Sensor
It collects the data from the devices it serves to collect different data from devices like devise temperature, speed, and errors etc.
User interface
The users can login in the separate in the IoT system through interface dashboard and able to perform action needs for better results
Why us for IoT App Development?
Internet of Things development companies in Amsterdam, Netherlands by Fusion Informatics is creating an innovative presence for mobile and web applications. In recent times electronic devices are vast in services providing the best results and outputs for management to control and manage operational costs and increasing productivity developments. We provide the outstanding solutions for IoT needs in your business to control and achieve the exact results aimed.
Our IoT app developers are innovators in research and development process that develops and creates IoT development solutions for all types of wearables and appliances. We associate the diverse nodes in the devices via a wireless network organized by a separate to set the performance of devices consequently. We are fortunate to take portion in the shifting technology and transporting the correct volume for the advantage of our active managers. Fusion Informatics activities to resolve the complication of the real-time adopting IoT development solutions and convey more suppleness. At Fusion Informatics, we have been creating extraordinary mobile applications for IoT activities for the 17 +years, supplying top-class wearable and IoT app development Services and Solutions to our clients.
---
Reach us at sales@fusioninformatics.com. If you are looking for a reliable IoT app development company in Amsterdam, Rotterdam, The Hague, Eindhoven, Utrecht, and the Netherlands.