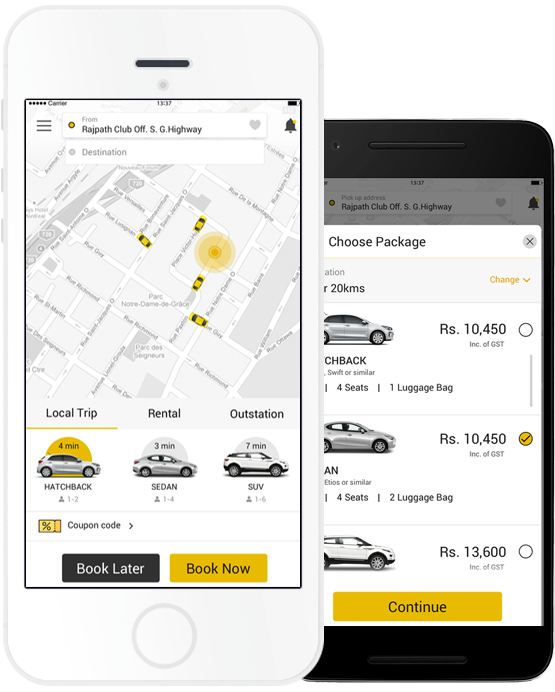 About CAB1
CAB1 is a taxi-booking app, which allows you to connect with great professional drivers at affordable prices. From CAB1 it lets you rent a variety of options of domestic, outstation and also you can utilize rental services too with a choice of choosing cars like high end to low end cars under SUV, Sedan and hatchback as well. You simply need to book a ride and expect a professional driver at very affordable price where driver will come to your exact place via GPS and drop you safely to the destination you mentioned. You can expect few unique features, which helps both the driver and customer to find each other. CAB1 mobile application also provides advanced features like "Track driver location", exact fare estimation with multiple payment options and history of your rides. Let everyone know experience so we have implemented freedom to share and rate your ride experience via reviews feature. Download the app today and experience the VIP ride with your first ride by selecting the choice of your car like a Boss.
The Client's Business Requisite
A client from Ahmedabad approached Fusion Informatics being a top app development company to develop an iOS and Android based on-demand taxi booking app for the people to experience comfortable rides to their destination with a few simple clicks in short time. The main agenda of the client was to develop an on demand taxi booking app for the those who are facing busy office schedule and people who can't reach their destination in a proper time so in CAB1 we introduced a unique features along with people should travel into different places while enjoying the world's best transportation to reach the destination at a minimal time with cost effective price. Therefore, we together decided and raised the idea of an app development, which makes it an easy task for people to book a trusted taxi with a skilled professional drivers, and this helped many individuals giving a job as a drivers as well.
Development and Challenges
While developing keeping the customers in mind our team at Fusion Informatics had faced many challenges while development and designing process. The client expected to launch it for people as early as possible. So below is the list of challenges we faced.
User experience
Adding just features is not enough when user experience doesn't satisfy and feel it complicated so keeping that in mind our developers made the things easy for customers so ultimately we had come up with an idea of enhancing user experience by implementing GPS based user friendly design where users can easily book the car manage their rides easily.
User-Friendly interface
A There is plenty of app with great features but it is no use when there is no user-friendly UI design and interface. Therefore, for this reason, our client needed a user-friendly interface with simple design and which should be easy for bookings in a fingertip. Keeping this in mind our android and iOS developers developed a catchy design and made it responsive as well.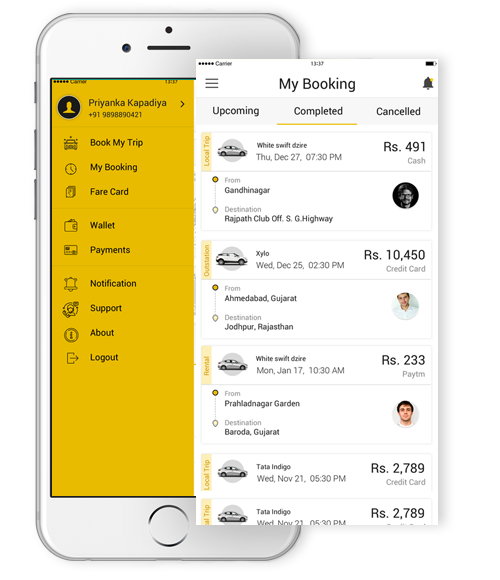 Distance Calculation
Since a destination will be having multiple routes to reach when user select pick-up and drop location. Where fare estimation automatically generates the bill to user should be accurate as there were multiple routes has to passed to reach the destination so developers found it challenging and came-up with a solution by using Distance From Location() function where it made the task easy to calculate the distance and managed the scenario effectively.
Payment
In Rental based, the payment has to be accurate as per the rides and to make sure that the correct deposit amount is collected and refunded without facing any delay, Our developers at Fusion Informatics finally came-up with using Stripe Payment Gateway's option to successfully refund the deposit amount after post completion of rental based transactions.
Features Implemented
For passenger:
Signup with secure OTP and easy steps
Option to make multiple car bookings
Option to choose car type and models
Can see current and old history of rides
Passenger can edit and view their profile
Inbuilt call feature to communicate with driver
Real-time Notifications regarding driver and trip
Multiple and Secure Payment options
Referral systems to get discount on rides
Freedom to review and rate ride experience
Cancel booking anytime with reasons to choose
Locate current position via GPS navigation
Accurate fare calculation
Share the current ride via messages and apps
For Driver:
Signup with secure OTP and easy steps
Add driver documents
Accept and reject booking
Driver Status availability
Notifications like New ride request/cancel
Waiting time charges and calculations
Ratings and reviews for passenger
Trip history options
Invoice for Driver after completion of ride
Able to see all future bookings scheduled