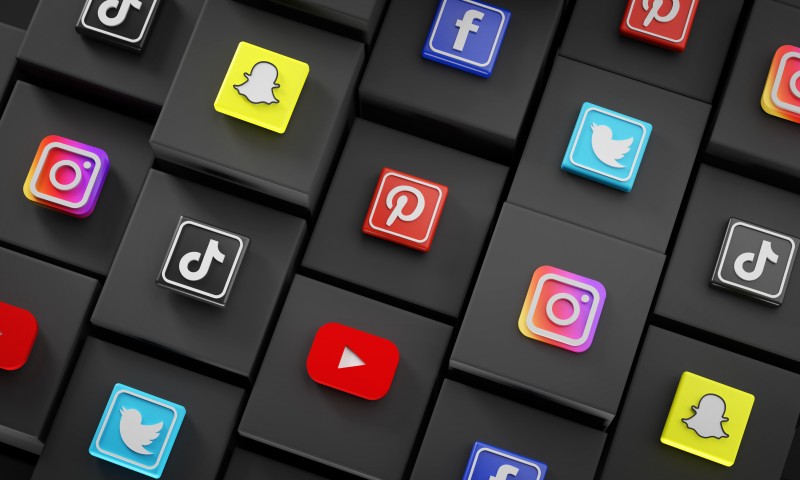 Social Media is one of the prominent keywords trending today in the digital eco-space. Noteworthy is that each social media channel is unique and different. Every platform has specific features, guidelines, variations. The truth is, social media has become a crucial factor in determining the success of businesses across industries. The significant number of Likes, Follows, Shares, carves a path to attaining business goals. Realizing this, companies are leveraging the intense prowess of social media channels integrating into their business models. However, companies need to understand first which social channel is best suitable that connects directly to their target audience! Whether you are a young entrepreneur or a reputed brand, this blog is dedicated to you. Let's talk about the top 10 Social Media Marketing Best Practices for your business and why you should adopt them!
Quick Facts
There are 3.78 billion social media users in 2021 as of now (Statista).
On average, users spend 2.5 hrs/day on social media (DataReportal, 2021).
71% of those consumers having a positive experience with some brand on social tend to recommend their family and friends.
Top Ten Best Practice
1. Know your Audience
The very first best practice is to identify your audience. Who is your target audience? Which class, category, age, geography, sort of people you want to connect with?
Learn everything about your audience. Whatever you can manage, know them, understand their requirement. Look at your connections a little closer. Are they millennials, kids, single mothers, newlyweds? Senior citizens, or entrepreneurs? Well, this is just your start. Engage them in the best possible way. Do thorough research on them and yes, trust your data, not your gut feeling. This is your business goal, not a personal goal, right? Your target audience may turn up to be your potential customers in the future! Know their age, location, earnings, and spending, buying behavior, interests, hobbies, etc. Adopt the following tactics to cover this practice –
Use social media analytics
Adopt 100% clarity about the value for your product or service
Frame a tagline statement for the target market
Test, evaluate the social ads you run and their impact
Learn newer ways with time, don't stagnate
Know the persona well
2. Be Selective
Which channels or platforms suit you the most? It depends on your business type. If you are a b2b company, you need channels that can best professionally portray your brand image. LinkedIn, Twitter, can convey formally while being a b2c company, you can leverage the magical power of Facebook or Instagram channel. In the latter, you need not be much formal in disseminating your information rather be casual, be personal in your approach. So, channel selection is a significant approach. You need not be present on every social channel. Focus on that channel that will give you the most business opportunity.
You need to answer the following-
Think of your business objectives; what you want to achieve on social platforms ( driving sales, increasing brand awareness, establishing authority, etc.).
Then think about the chosen social channel, whether aligning your purpose or not. If you make website traffic your major goal, then Instagram may not be your appropriate channel. Weigh your purpose against the strengths of all platforms and choose.
3. Align your Goals
You should plan your social media strategy, what is your goal for a specific post, whether you are getting likes, comments, shares, etc. What exactly you want to achieve? Follow these points-
Setting your social media goals for –
Brand Awareness – These metrics will allow you to know your current as well as the potential audience.
Engagement – These metrics will let you see how your audiences are interacting with your content.
Influence – These metrics will let you know how your active customers think, feel about your brand.
Conversion – These metrics reflect whether your social engagements are effective or not.
Audit
Find out what's working for you. Also, what's not working, too. Gather them in one place. Analyze and plan whether they need some kind of improvement. You can determine this by knowing who wants to connect with you and the vice-versa, your target-audience preferred channels, your competitors, etc.
4. Monitor Competition
Know about competitions in the market. Instead of reinventing from the scratch, opt for circumventing the competitions.
Conduct a comparative, competitive analysis in the following steps –
Find out your competitive keywords
Check out who is ranking for  these keywords in Google
Check out who appears  for these keywords in social searches
Identify  similar brands that your audience follows
Identify, select your 5 top tough competitors you should focus on
Identify threats
5. Social Listening
Social Listening can be used –
To understand the product perception
To understand the Brand sentiment
To driving customer support
To understand your Brand Outreach
To measure brand sentiments (neutral, positive, negative)
To understand customer behavior towards the brand
So, listen to what people are saying in your varied media channels. Hear your brand mentions. This action will help you do the tracking, analyzing, responding to those conversations. If you miss this part of practice, you will miss out on some valuable insights concerning your business.
6. Defining Voice & Tone
Define your social media voice and tone that reflects your brand's image. That's a key to connect with your target audience. People surely like connecting to those brands that echo their sentiments and preferences. Define whether your brand is professional, sarcastic, serious, funny, caring, and so on. This social media marketing practice helps you tackling three areas- choosing how to sound online, what vocabulary your audience speaks, and what is their (audience) expectation from you! Focus on adjectives, avoid jargon, choose your headlines to be clear and not clever, and so on.
It has to be tuned to your fans, readers, followers, listeners, leads, potential customers, or prospects. Some ways are-
If you are a b2b company, your tone needs to be professional, very formal, to the point. How do you interact on LinkedIn?
Similarly, if you are a b2c company, your tone needs to be creative and impressive to charm your audience. You can add some flowery sentences but should not overdo them. Adopt a realistic and convincing approach. For example, Facebook or Instagram.
7. Engaging Social Conversation
Yes. Social media marketing's best practice tip is to respond to all comments, likes, @mentions very promptly.
It's just like acting as a perfect host to your guests at a dinner party! Don't you greet, welcome, talk, smile, and laugh when your guests arrive? Similarly, you should welcome, listen and encourage conversations on your social channels. Remember, it is a two-way communication that clicks and catches the pulse!
8. Optimize Content as per Channels
Do not repost the same content over channels. For instance, what you post on your Facebook, don't post the same content over Instagram! Craft new, fresh content for every social channel or network. If not starting from scratch, you can make some tweaks then (just an idea). Remember, this way people will relate to your brand and appreciate that you care for them. Optimizing content as per channel is very important. For example, use the right vocabulary for your taglines and captions, use hashtags (don't stuff in numbers), avoid over posting, etc. What you post on Pinterest might flop on LinkedIn.So, tread carefully, optimizing content is the keyword here!
9. Posting Frequency
Creating an appropriate timeline for posts on varied channels is important. It all depends on which channel you are planning to post now. If Instagram, you see it is a leisure kind of platform. People love to play Instagram Reels, a trend mostly seen among youngsters, teenagers today. Find out their average spending times here and post your things parallel! Similarly, LinkedIn you can target during regular, working hours. Create your social media reports, and this will help you track results, viz. who's engaging with your posts and brand. This way, you collect data and based on them, you plan your next move or strategizing based on data, not any hunches.
10. Testing and Analytics
Split-testing or the A/B testing of your content, messaging gives you insight into what works for you, for your audience, and whatnot. Measure your efforts by tracking your posts to engagement ratio, average outreach, and social post to lead tracking.
Divide your audience into two specific, random groups
Present them with two unique sets of messaging
Now do comparisons between responses to your metrics chosen
Tone,length,images,texts,emojis,infographics,animations,GIFs,graphics,videos, Call-to-Action(CTA),etc. need to be compared. There are more ways of A/B testing as well. Research on the hashtags before you adopt them.DO your best and come out with the aptest conclusion conducive to your brand! Using Social Media Analytics tools help you define the right metrics and KPIs. track your campaigns, collect data and do analysis.Facebook,Instagram,Twitter,LinkedIn,all have related dashboards,analytics.You can keep an eye on them.
Socializing, Tracking, Connecting
The bottom line is – use your originality. Be authentic. Do not copy-paste others' strategies rather create your own, and start a trend. Let others follow you and your style of promoting and campaigning. After all, this way they might end up advocating your brand in some way or other. And social media marketing is the only way you can think of creativity as your best weapon thanks to the likes of Facebook, Instagram, where advertisers can reach and contact billions of prospective customers. It's about building a new relationship every day, and maintaining it with the existing ones, too.
How? Social Media+Likes+Comments+Shares+Mentions+Timely responses = A strong relationship with your audience.
Social Media can be overwhelming for many businesses! Contact us to explore how we can infuse social media as part of your marketing strategy & help achieving your business goal