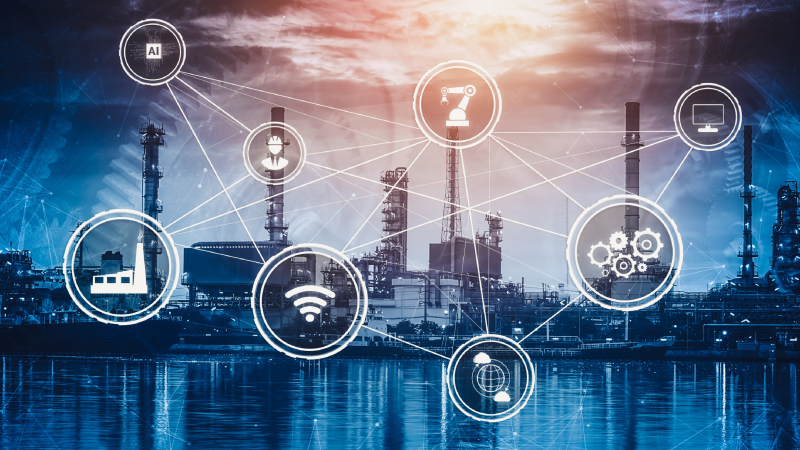 AI or Artificial Intelligence has major applications in the manufacturing industry. Right from developing OEE (Overall Equipment Efficiency) to FPY (First Pass Yield) production, AI is transcending levels. In manufacturing operations, AI is transforming machinery maintenance, AI-ML-powered analytics based on data predicts how often hulls of ships should be cleaned for maximum efficiency leading to huge cost savings in transportation, etc. For example, some companies use AI for evaluating component images during ongoing production lines that help to spot deviations from the standard in real-time.AI innovations are helping to expand uptime while focussing on quality, and efficient production, process, and the overall output. Let's see the top 10 AI innovations in the manufacturing industry that are attracting manufacturing companies across the globe.
1. Robotic Plasma Cutters
The AI-driven robotic arm is assisting in the plasma cutting process and eliminates the requirement of the human labor force. Plasma cutting is a significant part of the manufacturing process and it was considered as one of the biggest technology wonders at the time of the industrial revolution. Traditionally it involves huge human labor but AI innovation is allowing to replace this with the cutting-edge robot arm simplifying cutting and assembling processes. It is considered now a remarkable AI innovation in the manufacturing segment.
2. MV Error Detection
AI-driven  MV (Machine Vision)is helping manufacturing with error detection. The technology of Machine Vision frameworks allows manufacturers to digitalize quality control processes in the front & back finish of creation lines. Machine Vision mistake location further allows to recognizing error while expanding a value-based creation of the products concerned.
3. AI-IoT Sensors
AI-IoT-based sensors are a leading AI innovation in the manufacturing sector. IoT (Internet-of-Things)sensors help to assemble information throughout the manufacturing processes at varied phases. All this information serves for continuous advancements and prescient support to manufacturers across levels. IoT sensors backed by Artificial Intelligence are an innovative name, too, in the manufacturing industry.
4. 5G Digital Connectivity
Though 5G (just like IoT) is not a complete AI-based manufacturing technology, it is helping the industry alongside AI for smart Connectivity. Companies offering 5G connectivity have not yet reached the farthest connectivity levels for buyers but proving to be a great support for assembling offices.5G  facilitates a high-speed data transmission bringing in more connectivity potential where AI-powered tools capture those data and process, analyze them helping manufacturing owners with better decision-making ability.
5. 3D Printing
 3D Printing has come out as one of the latest AI innovations in the manufacturing sector. Also referred to as an added substance fabricating,3 D printing is a notable digital device for specialists. The technology is helping manufacturers to create just specific parts or items in a singular form, as solitary pieces. This is allowing for a better arrangement and efficiency in the ecosystem. This is also considered one of the major AI-powered digital innovations in manufacturing the world over.
6. Video Surveillance Cameras
AI-powered video surveillance cameras are considered a boon towards managing security in the manufacturing industry. The very technology helps to manufacture businesses to cope with the higher costs involved for live security personnel ensuring safety and security. Workplaces, factories, logistics, and several areas that need constant vigilance and monitoring are not possible to be done manually. So, AI innovation in the form of advanced video surveillance technology, cameras, is helping organizations to carry out security features in a seamless manner.
7. E-Tail Supply Chain Model
AI-based automation at varied points, warehouses, procurement facilities, is helping the logistics in the manufacturing sector for efficient and productive ­­­­­­­­­­­­­ end-to-end processes and deliveries. This has created a new model, the e-tail supply chain model that connects, integrates inventory, and varied other logistics stakeholders ensuring improved supply-chain management overall.
8. Visual Inspection Tool
AI-enabled automated visual inspection tool is another landmark AI innovation in the manufacturing sector. Businesses are leveraging this AI capability to a great extent as it can detect flaws that are too small which humans cannot see with the naked eye. Products with microscopic flaws can be detected by AI-enabled cameras that are highly powered and sensitive than human eyes. The overall system can recognize even the smallest defects, flaws in products, mark them and send timely alerts to the concerned department.
9. AI-ML Inventory Management Solutions
Manufacturing businesses take into cognizance this aspect of AI intervention in the sector. Inefficient inventory management leads to greater overhead costs that are detrimental to any business involved. AI-ML-powered inventory management digital solutions help to manage the entire process effectively increasing productivity and efficiency. Manufacturers can manage inventories seamlessly based on demand and supply meters.
10. AI-Enabled Robots
 AI-enabled robots are replacing humans for risky transactions and lifting heavy equipment required frequently. Thus, AI is more than just a digital method to optimize automated processes. Remotely controlled  AI-enabled robots can do varied tasks that are beyond human capacity.   It enhances the traceability, flexibility aspects enabling successful operations in the ecosystem.
Wrapping Note
Want to know what is the future of AI in the manufacturing industry? As per Fortune Business Insights, AI (Artificial Intelligence) in the manufacturing market is geared for a massive USD 9.89 Billion by the year 2027! This is self-explanatory of the beneficial use cases of AI and how the technology is transforming the industry with magnificent innovations and inventions bringing positive outcomes!
We know during the entire manufacturing process, you deal with several challenges, right from raw materials to the process of production, from testing to marketing, and then for delivery. AI can help you in eliminating mundane tasks and bring productivity in multiple areas – Connect to our experts to know more.