You are here, which means you are interested in creating an event app or probably want to learn about event apps. In case you are thinking about making an event app for your individuals, you are not the only one. There is a huge competition, which you have to over that. There are generally 2.2 million applications in the Google Play store and near 2 million in the Apple App Store. Each of those applications cost a considerable amount of cash, and the cost varies from app to app depending on features implemented, quality and support of the app.
These event applications getting popular day by day because of the feature it provides and increasingly more essential as individuals generally expect simple access to data on cell phones and tablets. This has prompted a flood in alternatives. A lot more event app developers and providers are providing offers on these event management apps than previously and every offer has a distinctive value, customization and features.
When considering how to create an event app, the first thing, which trigger in people mind is its development cost of event app. Considering it as a major factor, we guarantee you that the whole development process will be done at affordable rate. Keeping in mind about quality and feature, we develop online Event management app development as per your expectations.
So finally, what is the approximate price of these event apps today? Here are four of the top factors that contribute to the cost of event applications.
Major Factors that Affect While Creating Event App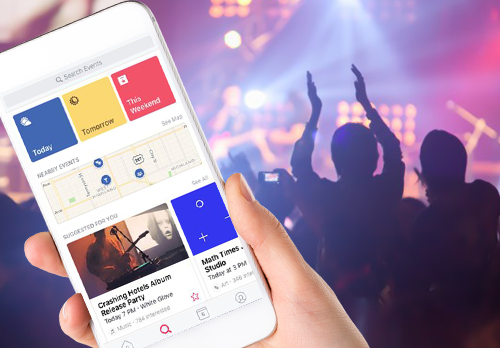 Promoting /Marketing
Marketing plays a crucial role when it comes to any business growth. Therefore, what if you are running a big event and people are not aware of venue, timings and plans associated with your event. It is a mandatory part to have an event app if you want your members to be updated with your ongoing and upcoming events. Just having the app and placing it in app stores like play store and apple store is not enough; you have to market it wisely to reach it to all your right audience. Of course, it takes time and money to reach the goal you set to. Patience and creativity is the key to marketing.
Value your audience
People do not much utilize applications due to the advancement in technology, nor will they download an additional application just to utilize it for your two day- conference. To get individuals to download and utilize your application you should make it significant by making a simpler or increasingly proficient way for your users to experience your events, understand and customize according to the goal. If your application does not offer some benefit, then you have to forget about dreaming about your app becoming the Best Event Management Software in the market.
Development Firm and Location-
You have the alternative to take the design and creation of your event application offshore. If your event app created in another nation can be less rich than delivering it in the INDIA., yet may require additional efforts with regards to communication, verifying your developer, and managing legitimate legal concerns.
Device Platform-
Android applications and Apple applications are different and developed separately, as are applications that are developed and designed to work with tablets. The event app that works on all gadgets you will have to pay more for development and testing as additional.
Components That Influence the Cost to Make an Event App
Application Platform-
As a matter of first importance, the expense keeps changing based upon the most significant decision the device platform like Android, iPhone or you need both.
When you hire event app Development Company, the primary thing they ask you is the platform you would like to get your app built on. If you need to work for one of these platforms, the expense would be determined on the normal hourly rates for native application development.
If you picked to develop it to take a shot at both the platforms, organizations for the most part settle on hybrid application development, which is more affordable than the local as 70% of the code and functionality can be reused for the other platform after the application is worked and built for one.
GPS Connectivity-
As we said previously, If you need your participants to reach the destination place, where the occasion is going on simply through your event application, nothing can be superior to anything incorporating map based (GPS) services with the application. This requires an extra cost proportionate to the quantity of hours expended in adding this functionality to it extended by the normal hourly rate.
Social features
The best thing about social networking platforms is they are free of cost and easy to reach our audience and promote our brand or product awareness. So adding social features to your event booking software application will considerably build the development cost. With this, you can make the application more users engaged as users can share their information and post what they did at the event including photographs, videos, gifs and more. These social networking platforms will connect more traffic and give them esteem worth downloading.
API interface Integrations-
One more significant segment that can either build the expense is incorporating your application with a third-party service and encouraging your application with an additional feature. For instance, to include a payment gateway for enabling digital payment to purchase the tickets online, there will be an extra cost acquired because of the additional number of hours put resources into the development of event management app.
While API joining is diverse for various applications thus, the days required to develop this change from application to application.
Offers and Discounts-
Who does not need offer and discounts? A most loved word for people at whatever point they are going out for shopping, supper, date, films or somewhere else. Everybody wants to get discounts that can enable him or her to spare first and spend a while later. Deals, discounts, offers, cash back, coupons make your beloved users the happiest, and clearly, improve their loyalty towards utilizing your application services. It takes around two business days to make it work in your application.
So also, there are different services like talking, video streaming, video updates, dynamic content changes that can give you to assemble a superior application foundation. In any case, the more features you include, the more cost it brings about.
Conclusion:
Is it possible to make an event app at an affordable cost? The answer is YES, It is possible with reliable mobile app development companies, which develop apps at an affordable price and fit your budget.
If you are looking to implement event app to your business and wonder how much does It Cost to Develop an Event App, Then Get in touch with Fusion Informatics today sales@fusioninformatics.com, we offer you the best price in the industry. We have built some extraordinary event applications for our customers.