About – Booking.com like Hotel Booking App Development Cost
At present Booking.com is the perfect Travel and Hotel Booking Apps that fulfills many purposes, this is a directory listing with listings from all over the world. By helping people find the place and destination of the trip depending on their interests. This Travel and Hotel booking website and app have done and made it available in 42 languages ​​and offer 29,326,850 listings reported, covering 146,717 destinations in 228 countries worldwide. This is why hospitality professionals and most of the startups, large businesses and entrepreneurs starting to wonder How Much Does it Cost to Develop Hotel Booking App like Booking.com
Online booking in the travel industry is in high demand. People travel to relax, visit international conferences, and take business trips. Often, they need help organizing their trips. The online travel market is a convenient department store for people looking for accommodation, flights, car rentals and taxis all in one place. Today, the question is, How Much Does it Cost to Build Hotel Booking App like Booking.com for the tour and travel industry is a trend among diverse groups of people.
Developing applications is not easy and not too difficult if you know the mechanism in developing applications. For your convenience, you can get services from professional application developers or freelance application developers. Professional applications are likely to incur higher development costs for developing the desired application. However, the Cost to Make Hotel Booking App like Booking.com from freelance developers can also develop efficient applications at lower development costs.
Booking.com, even the Hotels.com and even Priceline.com are the leading online travel agents (OTA) that offer planning resources and booking capabilities for travelers. If you decide to get services from a professional application, developer to Development Cost of a Mobile App, Website like Booking.com then you must consider the various features that you want to include in your Booking.com. You must remember that the more complex or complicated the feature, the higher the cost.

Cost of Developing App like Booking.com and Its Business Model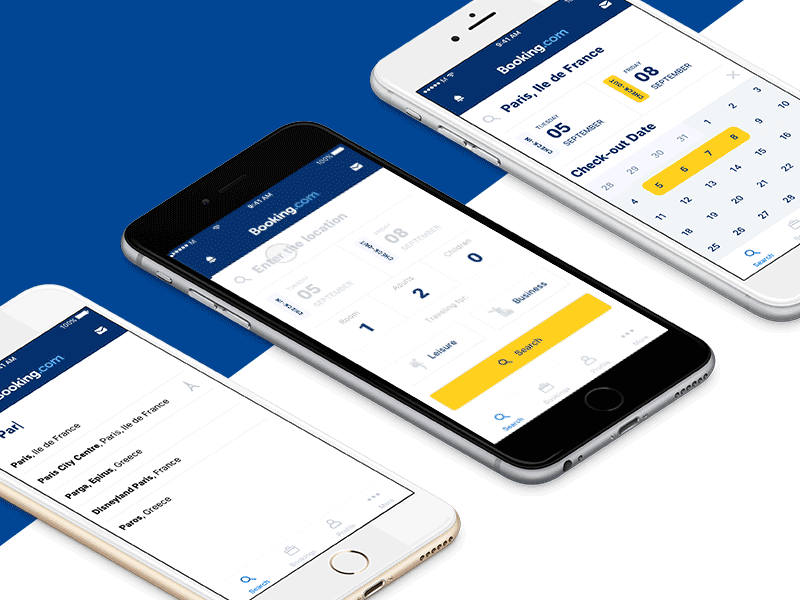 Booking.com is the best market place where hotel owners can promote and market their rooms to all guests and customers throughout the world. Many of them use the booking.com service and have become the best online hotel reservation service in the world. This has raised some people to know the Cost of Creating Hotel Booking App like Booking.com to consider developing apps like Booking.com to boost their business.
Travelers use a variety of applications along the way. However, the booking application is where you start your users' trips, because your pre-trip activities revolve around searching / booking flights and accommodation to stay. Major Apps like Booking or Hotels.com give you many choices in whatever direction you are looking for. Just like an application, the Cost to Create Hotel Booking App like Booking.com needs to pay a higher development fee. There are many factors affect development costs for developing Travel Apps like Booking.com. Booking.com like Hotel Booking Clone App must be almost 100% similar to the original development costs also getting higher.
Developing applications is not easy. If you know the techniques in developing it, it is not difficult to develop travel applications such as booking.com. This time, when estimating the Cost of Making Hotel Booking App like Booking.com one must decide what all features to be added in your new hotel booking apps and decide to eliminate the BackEnd section because that could change significantly depending on the concept you chose. Therefore, today we will pay more attention to the FrontEnd section, or, in short, iOS and Android app that can be seen by users.
Fusion Informatics is here with all answers about fees and other details for applications such as Booking.com. The Cost of Developing a Hotel Booking App like Booking.com will cost between $ 5,000 and $ 15,000 per platform. We will take care and make your dreams come true with support and assistance.
Discover How Hotel Booking Apps Like Booking.com Work
The Booking.com does not allow hotels to have lower rates in any other OTA or reservations engines. Portal tracks the prices that are established in other engines and if it finds any cheaper offer, then immediately senses it and gets in contact with that concerned hotel to point out that there are some aberrations on the account.
Booking.com is the advantage for the hotels that who are worrying about their websites, do not know the trick to promote themselves on the net, their positioning on Google or search engines. You need to hire iOS and Android Hotel Booking App Developers to know about how advanced features work. In those situations, booking.com offers you commission generated by reservations. The main listing in booking.com is free & hotel pays only if a guest stays.
When somebody books through the site, you will receive a confirmation and the guest pays the bill upon arrival or departure. The fees of booking.com are at a base rate of 15% on booking apps by providing an option to upgrade their preferred member service.
The Cost to develop Booking.com like Hotel booking /travel booking app differ from platform to platform. It might cost you less to develop a hotel app in iOS platform, the iOS app requires only a few devices to be compatible, but it's not the same for Android and Hotel booking platform for Android price relatively higher than iOS.
Basic Features Affecting the Cost to Create Hotel Booking App like Booking.com and Travel App
The Booking.com like Hotel Booking App development cost depends on its features. We recommend seeing the basic set of Booking.com features for customers and service providers.
For customers:
Signup
Personal profiles
User dashboard
Search system
Geolocation function and maps integration
Ratings and reviews
Notifications
For hoteliers:
Property management
Booking management
Notifications
To implement all of these features, you need an experienced and reliable technical partner. Fusion Informatics is able to create a startup marketplace that can be scaled and sustained with fast turn-around.
Advance Features That Affects the Cost of Making Hotel Booking App like Booking.com
When you planned to adopt advanced features, one must think of How Much Does an App like Booking.Com Cost with advance features. Travel booking apps like Booking.com come under the database application category, which requires a strong and attractive backend design. Below are the factors that determine the true cost of app like Booking.com.
This allows visitors to search directly through the map and show all the loading area availability lists
The best feature is the usefulness of this website, it is easy for businesses that can join and get their place registered
This gives you the best prices available at low prices. Therefore, you can rest that you get a lot
Every booking is confirmed instantly, once you find your stay in a few clicks, it's complete
With a secure platform, this platform facilitates hundreds of thousands of transactions every day and works with the highest standards to ensure privacy
It does not charge you or add administration fees or any booking fees. In addition, in many cases, your order can be canceled free
Whether you have enjoyed the trip or have just booked, the customer experience team is ready to take your calls and answer questions in more than 42 languages
Are You Looking To Build Hotel Booking App Like Booking.com? Share Your Requirement to "Get a Free Quote"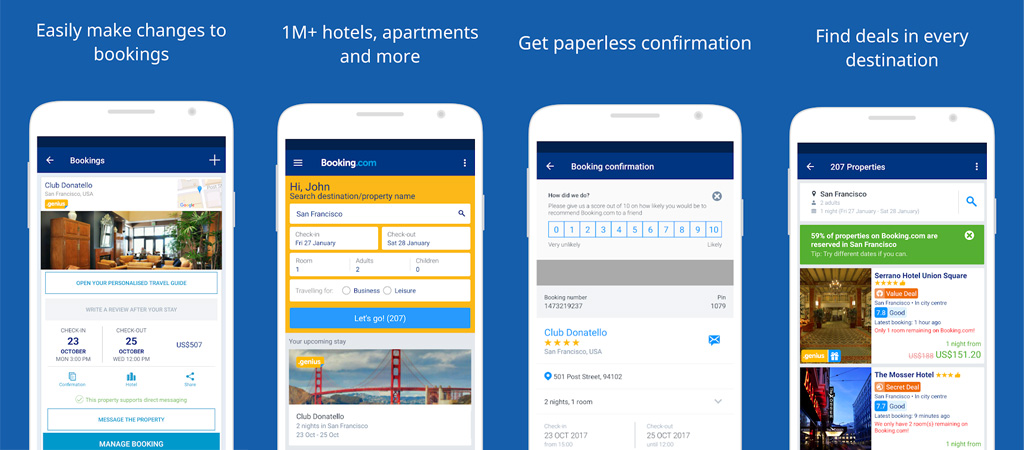 How to Choose Booking.com Like Hotel Booking Mobile App Development Company
If you are considering building a Hotel booking or travel app/website like Booking.com, our experts at Fusion Informatics can provide you with estimates that are more detailed. Contact our team to build a better application.
The online travel booking application can attract many people if it has an attractive interface and user-friendly features. Travel and Hotel Booking App development Cost in Bangalore, Ahmedabad, Mumbai, Noida, Delhi and Gurugram, India, USA and Dubai depends on developers and company. However, if you hire us you can get high investment returns (ROI) with this type of application at long-run.it will also help you build brand reputation in the global market.
Our experts at the Fusion Informatics Top Travel apps development company have the ability to provide the best solution for developing any application related to the travel industry and can give you estimates that are more detailed. Contact at sales@fusioninformatics.com and talk to our team to build a better application for your travel and hotel business today.