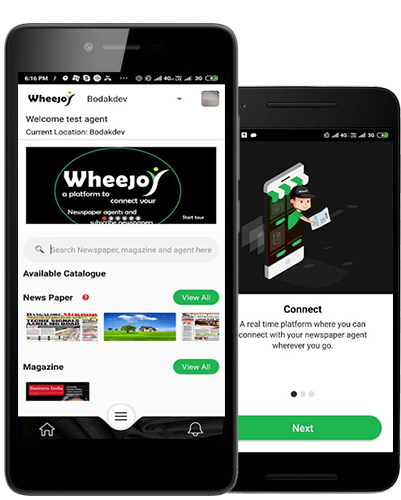 About Wheejoy - App to Connect Local Newspapers Agents
Wheejoy is a newspaper subscription mobile app, which helps a user to connect the local newspape agents, and a weekly magazine to manage all subscriptions regards and user can make online payments, invoice within the mobile app. The users can register through phone number by OTP verification format. The mobile app allows users to create a profile and user account can able to see the user invoice processed details, history of payments regarding newspaper subscription. The company came with innovative ideas to integrate the mobile app into a subscription of newspaper and magazines and helping users to pay monthly newspaper bills through Paytm wallet.
Client Requirements
The main aim of the customer is to develop a platform that helps users to connect the local newspapers and magazines to pay the monthly subscription bills and online payments in one place. The goal continued to stay competitive in the business by developing a mobile app. After consulting Fusion Informatics, They evolved a strategy that intended to produce a combined platform to connect users and a local newspaper one place. They explained the plan to reach more subscribers and that they need to track all the expenses regarding newspaper bills and payments. They want to integrate the essential features such as magazine catalogs, search options, chatting and resumption option and call options to interact with newspaper agent and reporting on newspaper issues, etc.
Development Process
Fusion Informatics performed analysis on all the details needed by the customer requirements and we implemented an innovative approach to produce a user-friendly interface method that is easy to control and simple managing data on the server. We developed additional features in the mobile app for loyalty points and reward system allows availing discounts in various mercantile outlets.
After a clear perception of customer demands and market requirements, we have produced an award-winning device interface in a clear way. Our app developers built an outstanding mobile app for a client and integrated advanced features to make the user spend more time within the mobile app.
Features Delivered
Registration
Monthly Billing
Subscribe to Magazine
Rewards and loyalty points
24x7 Customer Support
Paytm Payment Gateway
Personalized user experience.
Sell Scrap
Delivery within 24 hours
Simple Checkout
Search filter by category & brands.
Instantaneous earning reports.