CAB1 is a successful taxi/cab service provider in Varanasi, UP that allows you to connect with large professional taxi drivers at affordable prices. CAB1 lets you to rent a variety of options like domestic, and you can use outstation rental services with a choice to choose the high-end cars to low-end cars under SUV, sedan and hatchback as well. You simply need to book a ride and expect a professional driver at a very affordable price where there is option for women to choose Women Driver as their driver who is very professional and will come to your exact position via GPS and drop you safely to the destination you mentioned.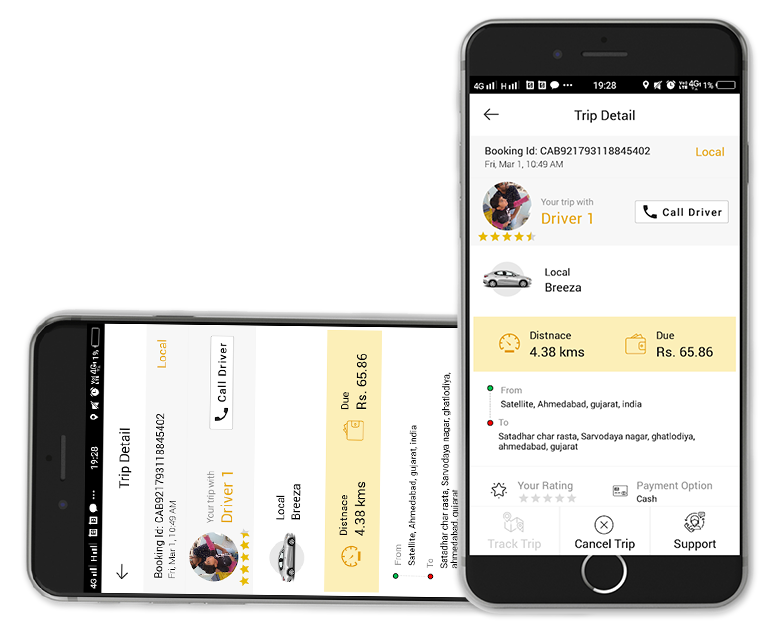 Fusion Informatics Role in CAB1's Huge Success
Fusion Informatics is an award-winning leading Taxi Booking App Development Company in India, Dubai and USA. Fusion Informatics not just developed an app for CAB1, Fusion Informatics developed app that helped people to experience comfortable rides to their destination with a few simple clicks in short time.
Therefore, in CAB1, we introduced a unique feature where people should travel to different places while enjoying the world's best transportation network to reach the destination in minimum time with profitable prices. So finally, our idea of development of taxi applications has made it easy for people to book a taxi with skilled men and women professional driverse specially for lady passengers and it has helped many people giving a job as drivers as well.
Since its inception, CAB1 never looked back. The company is in pleasing spree with users across Varanasi, Uttar Pradesh. However, it is constantly evolving with new ideas and does all the taxi booking process convenient and easy.
What Kinds Of Features Does CAB1 Have?
Below are the major features we implemented when we were developing the CAB1 app for taxi booking business, which majorly depends on mobile app:
The application is able to handle multiple user requests therefore ensure that it is built on the latest and updated GPS technology
Secondly, it has integrated with multiple payment channels such as credit / debit card, PAYTM and more
CAB1 has a user-friendly booking and cancellation facility
Simple and easy to send and receive notification of the driver (monitoring of the cab on the map location)
Verified drivers, an emergency alert button, and live ride tracking are some of the features that ensure you a safe travel experience.
Work speaks louder than words
If you are looking to venture into a CAB1 like Taxi App Development or want to know How Much Would It Cost to Develop Taxi Booking App, then you are interested and it will be a great move. Not only taxi services, but also the private car hire service is booming and as long as you offer services with unparalleled customer to your customer that, you are less likely to go out of business.
In order to develop a Cab Hiring Mobile App like CAB1, you must have an expert and Skilled Taxi Booking Mobile App Development Companies like Fusion Informatics to understand your business needs and end goals. Are you READY to develop CAB1 like taxi booking app? Then please feel free to contact us at sales@fusioninformatics.com or visit us at www.fusioninformatics.com today.
APP SCREENSHOTS
See how our app is designed in beauty and simplicity.