About R2K2 cabs that Enables Easy Cab booking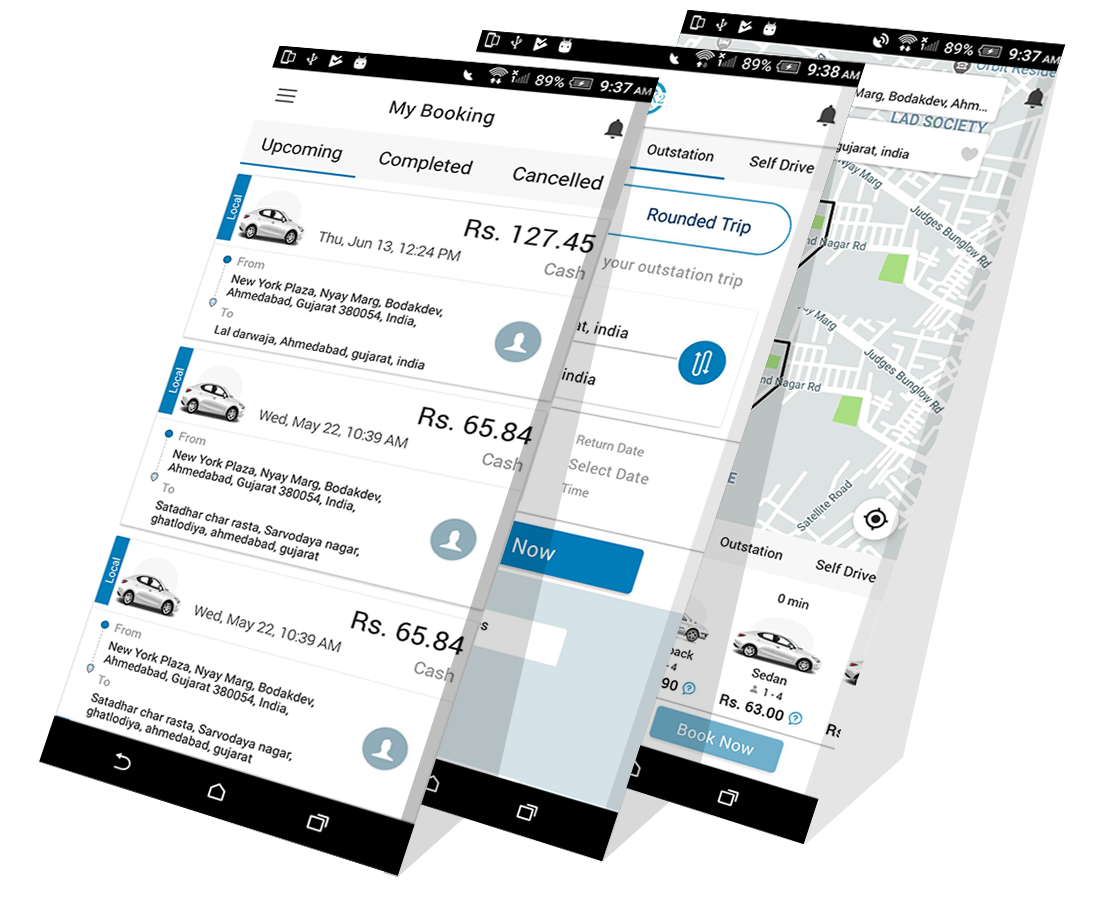 Bid goodbye to the timeworn method of boarding cabs instead seize the glamorous mobile taxi booking apps. Enjoy the ride seamlessly with a single tap on your mobile in this fast pacing world. With the cropping companies in the metropolitan cities, giant cab sectors establishing their operation to make the users feel convenient.
R2K2 cabs, India's most sought after cab booking platform extended its empire in Bengaluru, home of IT hubs on the motto of providing greater amenity cabs to the users. The company encompasses a myriad of autos and cabs for varied reasons that are tailor-made for budget, luxury, and comfort purposes. The company ensures the safety of the users as the main aspect where the cab is accessible via calls, company's website, and mobile application Different modes of payment gateways available such as cash, card or application enabled wallet. Professionally trained drivers match the customer needs exactly even in the task of picking up customers from abroad. We are pretty much sure to provide a remarkable journey and the bond is endless. With beyond 20000 cabs in Bangalore, R2K2 cabs emerging as a pioneer cab booking platform in India.
We offer unprecedented service to various locations regardless of time. Want to grab a tastiest piece of meal in your favorite cuisine, fly to other cities for business meetings, enjoy weekend in the cozy shopping mall, visit healthcare professional for a checkup, reach office on time, celebrate long weekend in beaches or any outstation, attend your family wedding parties, get back to home after the late night parties. Don't worry! Just tap your mobile to access every need.
Client requirements
The main aim of the customer is to develop a platform that helps users to connect the cabs at different locations at 24*7. After consulting Fusion Informatics, they evolved a strategy that intended to produce a combined platform enabling users to book cabs in a variety of medium like Android, iPhone, etc. They formulated the plan to reach more customers so they were in need to integrate the essential features such as self-drive, ride details, GPS navigation, payment gateways. This enables a user-friendly approach.
Development process
Fusion informatics performed analysis on all the details needed by the customer requirements and we implemented an innovative approach to produce a user-friendly interface method that is easy to control and simple managing data on the server. After a clear perception of customer demands and market requirements, we have produced a device interface in an unambiguous approach. Our app developers built an outstanding mobile app for a client and integrated advanced features to make the user comfortable.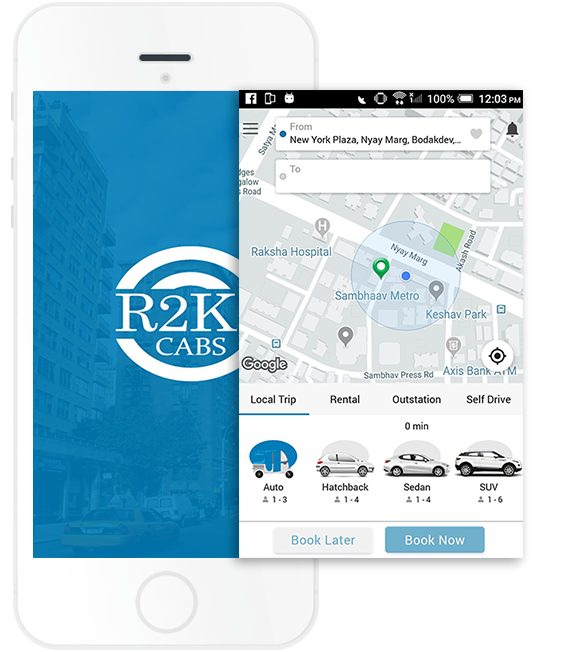 Exclusive travel options
Auto:

Pick an auto instantly rather than following the older way of quarreling with drivers for bargaining.

Budget:

Choose from a wide range of affordable AC cab in the town

Hatchback:

Transit in the comfy AC hatchbacks at budget-friendly fares

Sedan:

Book a popular sedan with expert drivers

Luxury:

Simply commute in the famous luxury cars filled with opulence at an unmatchable price

Outstation:

Explore out of the town with the service of one-way and round trips

Hires:

The car hire service for your favorite tourist spots. Affordable hourly packages with top-rated drivers to pick from.
The working nature of R2K2 cab application
All the vehicles arrive on-board with a GPS navigation system installed and available rides can be seen in the app. Enable your location (E.g. Home, Office, Airport, Railway terminals, etc.) and look out for the nearest location enabled autos/cabs on the map. Choose from multiple payment gateways such as cash, Paytm, Credit card, Debit card, UPI, Net Banking, etc. pick the type of vehicle that suits you and tap the option 'Book Now'. Get instant details about the cab driver and cab. Track your cab in real time and enjoy the ride. Have all your invoices mailed to your E-mail after the completion of the journey. Rate the cab drivers and ride for future analysis purposes.
Features and benefits of R2K2 application delivered
Multiple payment gateways enabled namely Paytm, cash, debit card, credit card, UPI, Net Banking, etc.
Know in-detailed fare and other features before booking the cab.
Schedule a ride like 'Book Later' very earlier from any location.
The safety of the travel is assured based on the installment of GPS tracking systems. Travel safe with your family and friends.
Cancel your request for the first time without any additional fare.
You can consume the facility wholly without the need for sign-up.
If the booked cab does not arrive, the entire money will be refunded based on customer complaints.
The availability of a self-driving facility adores the customers in fine fashion.