How Much Does it Cost to Develop Yoga and Meditation app?
Health is important for every human life, as today's work, stress and daily life activities making people more depressed. Due to workload or some personal issues, peoples losing their peace in their lives. To remove all these issues, meditation and yoga is the best activity helps to stay healthy and peaceful. In our regularly connected stories, it's necessary to practice a little time every day to be attentive to our inspiration and surroundings at this time. Meditation provides us a sign of freedom. Contributing just a few minutes each day can enhance attention and overcome the pressure.
The mediation and Yoga Industries transformed to reach more users by implementing mobile app development services within it. Mobile Apps like Calm, Headspace and Mindfulness providing services with best yoga and meditation tips and sessions that make people stay healthy. The mobile app contains customized as per user mood and emotions that increase the focus to handle stress and getting the best from stress and illness.
The meditation and Yoga mobile apps come with a special vibe to teach with videos and images and also available with local languages. Some apps offer sleeping tips and betterment from stress. The mobile app meditation app trend is going to continue to grow and become good with still more advantage in the health industry. The business people started paying attention to adopt mobile apps in their meditation centers and business to reach a wider audience. One of the top meditation apprising and helping users to stay healthy with meditation sessions is Calm
About Calm
Founded in 2012, Calm is a software development company which produces meditation products that help users to stay healthy by providing sleeping tips to reduce stress and sessions for meditation. The app was developed to keep the world healthy with meditation and yoga. As per the recent reports, Calm produced $22 million in income in 2017 and touched an annual return run price of $75 million.
The developed and implement mobile app to users for both Android and iPhone devices. The advanced features of the app include tools to teach mindfulness, multiple programs regarding meditation sessions. The calm app was designed to provide users with Meditate, Sleep, Music, Body, Masterclass, and Scenes.
Calm has become a no1 mobile app for meditation and mindfulness. The app allows users to enjoy more than 100 meditations to handle stress and stay healthy. Calm is the extreme mindfulness app for newcomers, but also involves hundreds of plans for middle and high-level sessions.
Are you looking to build a Meditation App like Calm? Get a Free Quote
Share your requirement to
Advantages of Meditation Apps Features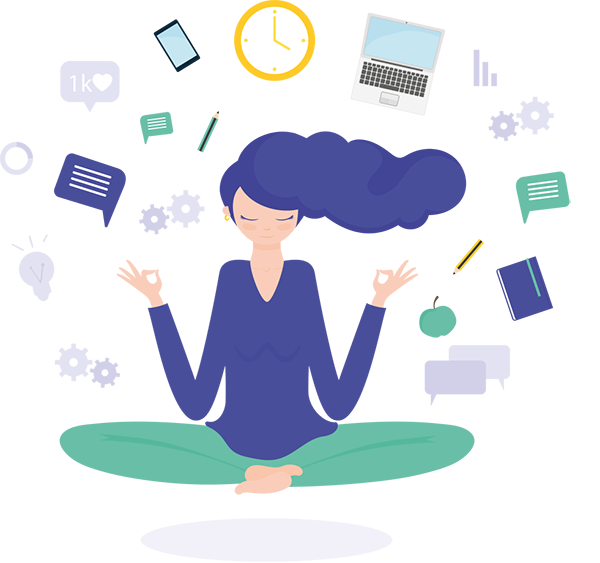 Calming Anxiety: This feature provides guided and unstructured video of 20 minutes with pleasant music to Reduce Anxiety.
Managing Stress: The development cost of a meditation app includes features to determine the level of stress and manages to reduce by providing meditation tools includes images and music.
Deep Sleep: The meditation app like calm offers relaxing sounds and nature combines with a melody that helps users to experience the calmness that makes sleep.
Focus and Concentration: The Meditation mobile apps allow the user to block the world from distraction apps, calls, and texts which are able to focus and concentration during work
Relationships: The advanced features in the meditation app enable users to connect and maintain healthy relationships that make them feel comfortable.
Breaking Habits: The app helps users to break the habits which contain a powerful tool to track your habits and realize their goals. The Tool includes customizable reminders, notifications, and more.
Happiness: The meditation app contains nature sounds, guided meditation sessions and step by step process to stay peacefully, that helps to relax the mind and feels happy.
SelfEsteem: The meditation app development services integrated with self-esteem that pop up in headphones to develop self-esteem and will present more attention to the positive aspects.
Mindfulness: The app features provide guided Daily Calm sessions, which encourage you to relax and refocus your awareness, there are also plans concerning intermediate and high-level users.
How to choose the right Meditation mobile app development company?
So, you've got an idea for a new mobile app to adopt in meditation and Yoga industry that helps users to reduce stress and stay healthy. But need to hire the best meditation app development company which makes your idea into a reality that performs the successful track.
By identifying the best mobile app development companies is not a simple task as the top app development agencies maintain a great sense supporting startups and have the specific inventive and professional expertise app developers to execute your idea.
How Much Does it Cost to Develop a Meditation and Yoga mobile app like Calm?
Every mobile app product has cost tag on it, but it depends on a lot of factors such as which platform your meditation app will prefer to develop either Android or iPhone. Depending on the size of the app and advanced features included in it. And based on mobile app Development Company you hired and the location of the mobile app development company.
To know the exact cost details reach us at sales@fusioninformation.com to get a free quote