How Much Does it Cost to Develop a Music Streaming App like TikTok?
About TikTok
TikTok is one of the world's leading entertainment and music streaming mobile app developed by Byte Dance headquartered in China for both the Android and iOS platforms. The company has the intention to create a platform that allows the user to capture and present their creative video making sense to the world. The users can create a video about daily lifestyles, knowledge, and memories that can be uploaded to showcase their creativity directly from their smartphones.
The company has offices in London, Los Angeles, Moscow and Mumbai, and Tokyo. It is becoming the most popular video creation app among other apps, as it holds the record of most downloaded apps in the world. The advanced features integrated into the app allow users to upload videos with simple taps and can edit the short videos themselves to share with the world.
Because of their innovative function in the app, TikTok becomes one of the global video sharing app holding more than 500 million active users. Nowadays making videos with TikTok app is really fun and in the same manner, it allows users to like, comment and can share with friends.
Thus, everyone has interesting to know about the development cost of TikTok and become more popular among other apps. Such it has been impacted for almost everyone is starting to research an app to develop a music app like TikTok. At present every business owner is looking to know the cost to develop the TikTok clone app.
After the huge popularity of music streaming or video creation apps like TikTok. Today many entrepreneurs started searching about the app and its development cost details.
How Much Does it Cost to Develop Mobile App like TikTok
How To Make A Music App Like TikToK
How to Make a Social Video App like Tiktok?
How to build a music app like TikTok for Android
Create a music app for iPhone like TikTok
Make a music video app for iPhone like TikTok
Make a music video app for Android like TikTok
To develop an app like TikTok the app development companies need expertise and experience that possess a seamless experience for users to stay a long time within the app.
Are you looking to build a Music Streaming App like TikTok? Get a Free Quote
Share your requirement to
How Do TikTok App Attract Users?
TikTok is clearly the most prosperous entertainment app in 2018. It draws a number of active users to perform impressively 15-30 seconds short videos and it can be spread to the world within the seconds. The unique interface, innovative features, and app functions have made this app so popular.
TikTok is one of the social networking apps, as it enables users to create and share fun, music and knowledge videos with friends and communities. The application allows users to create profiles with few seconds and can sign up with social media accounts like Instagram, Facebook, and Google. The app contains unique features to create a music video that can choose from thousands of music songs and users can utilize advanced tools to make the video more personalize by applying viral stickers and it has the options to control video speed.
Advanced Features of TikTok App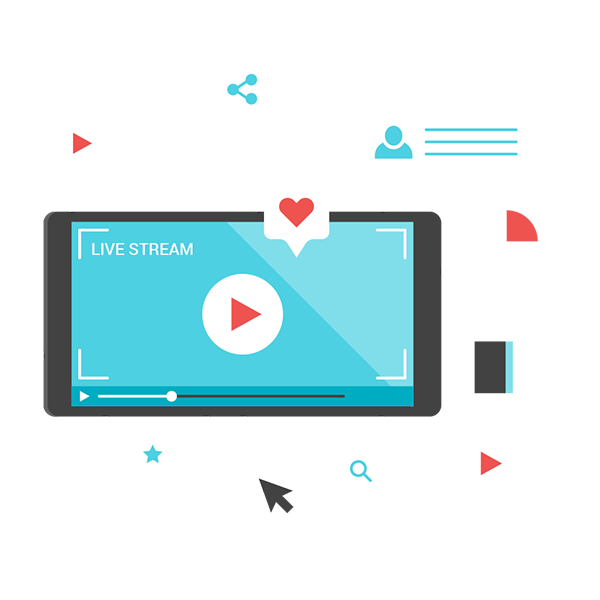 Create and Edit Profile: The app allows a user to create a profile and can upload own image for identification. The login screen is very impressive that will pay attention to make users to enter the mobile app. The users can save time by signing in with social media accounts.
Simple user interface: The app development cost like TikTok varies in providing a simple user interface that matters a lot for an app, where it helps users to stay and use the app properly with a simple interface. It is an important feature that allows the user to build a connection for long term usages.
Short Musical Clips: The app development cost like TikTok varies with advanced features integrated into, as it needs more efforts and time consuming and charges more. The app provides options and function to select various music and video formats from different categories to create a video of 15 seconds.
Outstanding Innovations: Applying artificial Intelligence, deep learning, and image capturing technologies TikTok helps to include special effects on creating videos like hair dying, 3D stickers and hip-hop music. The app like TikTok cost varies on the advanced feature's implementation.
Share in Social media: The music streaming app or video creation app development cost like TikTok varies on integrating social sharing features such as Facebook, WhatsApp, and Twitter. Sharing helps the app to connect and reach more users worldwide. The cost to develop an app like TikTok charges more.
How much does it cost to develop an app like TikTok?
The mobile app like TikTok for both Android and iOS platform considered many factors that affect costs. There are many factors that effect on costs such as Platforms, Design, structure, advanced features and number of hours taken and required the latest tools and technologies that help to make a unique app for users. Keeping in the mind all the aspects the cost of developing a Music streaming app like TikTok cost around $35000 to $ 45000 but varies based on customer demands, market demands and location of the company.
How much we charge to develop an app like TikTok?