How Much Does it Cost to Develop a Bike Rental App like WheelStreet or Bounce?
Riding our own bike is a tough task in this expensive cities and peoples prefer to go on a bike for trips, adventures and for long drives occasionally. Traveling in Auto or cab is a somewhat expensive process and most painful things to bear the charges applied by drivers. Many peoples are not convenient to buy bikes because of their expenses and difficult to manage every month. To prevent this, mobile app technology has arrived with advanced features and helped many businesses to extend businesses including bike rental app business, where users can book the preferred bike for rental for every single journey.
It has become a simple process by installing mobile apps to get the bike on the rental method. This is because of the smartphone revolution, many users are using mobile apps to order products and services. This made many businesses impacted and looking to develop a mobile app for their rental startup companies. The rental apps like WheelStreet, Bounce, VoGo, and Next Bike become popular for bike rentals and providing services for an hour or day basis. With the development of technology such as a mobile app, many startups invested in the fast-growing sector to gain profits.
How Bike Rental App Works?
Basically, the Mobile app is developed for both Android and iOS platforms, where riders can install the app from their smartphones and can book their preferred bikes through mobile apps. With the help of the bike rental mobile app that allows users to find and locate the bike and an option to reserve for a journey, based on the hourly or daily basis.
Once the user reserved the bike for rental from the mobile app, receives the 4-Digital PIN code to unlock the bike. Users can stop the bike anywhere he wants and can lock the bike for tea or any breaks and can continue his riding by entering the PIN. The users can end journey by locking bike at one of the conventional bikes stands within the order location.
Bike Rental mobile app development has become more significant and most of bike rental owners recognized the effect of mobile app and looking for best mobile app development companies to develop apps for their services. These are the following inquiries we collected from our clients.
How much cost to Develop a Bike Rental mobile app
How much does it cost to develop an app like a Bike Rental mobile app?
Motorbike Rental App Development Cost and Key Features
To know the cost of developing a mobile app for bike rental services comes with numerous features and capacities. Below are the features that effect on cost and time period.
Are you looking to build a Bike Rental App? Get a Free Quote
Share your requirement to
Essential Features of Bike Rental App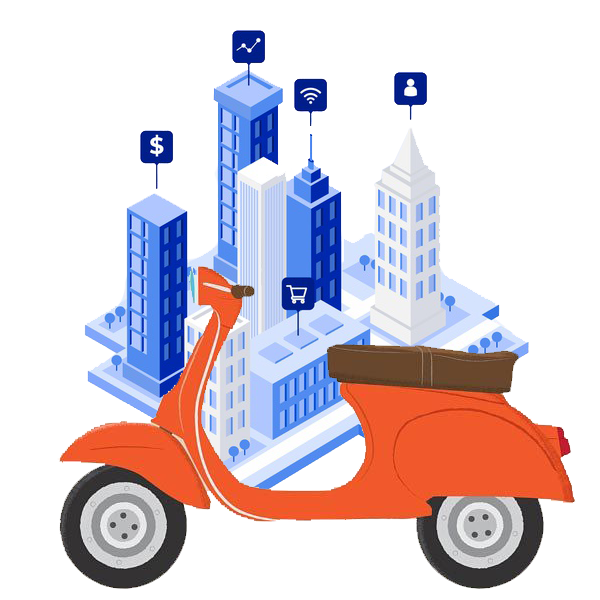 Registration: The app enables users to register the app with certain login details to maintain accounts and can perform sign up by social media.
Bike Selection: The bike rental app allows the user to choose the bikes displayed within the app itself. The kind of feature arrives with extra charges and varies on the type of interface development.
Booking Options: This enables users to handle their bookings. The bike rental app development costs vary by including sub-section to book now, later and schedule option at any time.
Payment Gateways: When it comes to presenting claims for payment to the customers, the more the number of benefits the better your customer is expected to feel comfortable.
Admin Panel: The bike rental mobile app development varies by integrating the Admin panel for the admin to manage everything related to the user to accept or reject the application.
Booking Cancellation: The users have access to cancel the ride in any reason that can be done with simple tabs in the mobile apps.
Push Notification: The admin can send notification on new product or services launching to direct user inbox with the help of these features.
How Much Does it Cost to Develop a Bike Rental App?
As above-mentioned features are essentially involved and effect on cost of development. To estimate the cost of development of the bike rental app needs to consider many factors and aspects. It is not simple to determine the definite cost of details about the bike rental mobile app development. However, it will consider various factors to estimate such as intention, advanced features, app dimension and type of device (Android and iPhone) and location of the mobile app Development Company, experienced and expertise developer etc.
If you have the idea to develop the bike rental app, then you are right spot to hire Fusion Informatics, a leading mobile app development company provide the best solutions for business needs. We are specialized to develop the customized app solutions for Motorbike rental app that connects more customers and operates seamlessly.
Fusion Informatics, Holding 18+ years of experience and developed various apps with affordable cost across the world. We provide a top-notch technology solution to manage a strong bike rental device. Our bike rental app development services developed by robust technologies andthat is tailor-made as per customer demands and business requirements. Hire our mobile app development company to support you kick-start your bike rental business
If you are looking for a reliable bike rental app development company, then reach us at sales@fusioninformation.com