How Much Does it Cost to Develop a Car Wash Mobile App?
The car wash services become very important and demand for vehicle owners to make a better look that makes drivers feel comfortable while driving. Maintaining your car with the car washed process is less expensive to protect and make a good appearance. It has become more popular nowadays and many companies are managing the car wash business. There is a tremendous business in the on-demand car washing market.
According to the recent survey says there are 75% of car owners started using car-washing services instead of cleaning their own. The business finally transformed into mobility services due to the smartphone revolution with Android and iOS devices. This is the generation, where peoples use internet to buy products and started to buy from the company mobile app itself. This mobile app technology influenced all the businesses including car wash industry also.
The mobile car wash service business is also developing largely as more car owners choose to demand cleaning services through their mobile devices. The mobile app development for the car wash industry helps to serve better than the website. It allows users to maintain personal data and create an account to see the history of transactions and service schedule dates.
On-demand car wash mobile app development has become more significant and most of car wash owners identified the importance of car wash mobile app and looking for best mobile app development companies to build apps for their services. These are the following inquiries we received from our customers.
How much cost to Develop an On-Demand Car Wash App
How much does it cost to develop an app like a car wash mobile app?
On-demand Car Wash App Development Cost
How to make a car wash app for Android and iPhone
How much does it cost to develop a car wash booking app?
How Much Does it Cost to develop a car wash schedule app?
To know the cost of developing mobile app for car wash services comes with various features and functions. Below are the features that effect on cost and time interval.
Are you looking to build a On-demand Car Wash App? Get a Free Quote
Share your requirement to
Essential Features of Car Wash Mobile app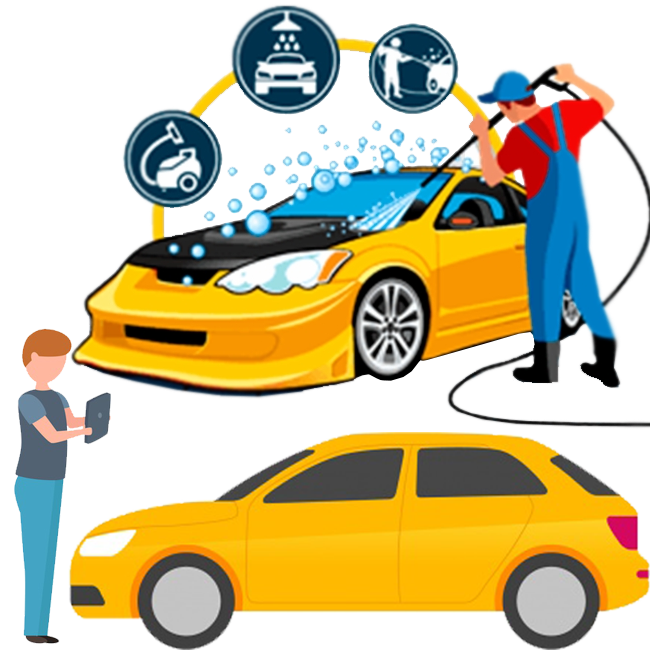 Customer Panel
Registration: The app enables users to register the app with certain login details to maintain accounts and can perform sign up by social media.
Car location selection: The mobile car wash allows the user to locate the nearby service station according to their convenient place and can choose they prefer.
Multiple cars: The users can select multiple cars and can add to perform washing services in the selected service station, as they preferred.
Various Services: This feature helps the customer to place order for various services need for their own vehicles such as oil change, engine servicing etc
Car wash package: The advanced features in the mobile app enable the user to choose the package that packed with various services matches for their financial demands.
Payment module: Users can arrange the cash through the online payment patterns such as credit/debit card, Cash gateways for availing the car wash services through the mobile app.
Push notification: The app features such push notification send latest updates, product or services launching and offers, a discount to their customer inbox directly, and let users notified.
Technician View
The car wash mobile enables technicians to perform transactions and can send notifications content regarding services to their potential customers and helps the customer to update.
The development cost of mobile car wash helps Technician to handle user requests and orders in a way to secure a customer for early services. The app development cost like a car wash mobile app varies on developing features that help technicians to view their customer account history. The advanced features integrated into the car wash mobile app development helps Technician to upload images of completed tasks for their respective customers.
Admin View
The on-demand car washes mobile app allows admin to accept the registration process and avail access for them to stay connected with the mobile app.
The online demand car washes mobile app development helps admin to manage technician's accounts, user profiles, and credentials seamlessly. The app enables admin to manage services and time zones for users to avail car wash services without deviations. The Admin can manage payment mode performed by users via mobile app and helps to store gateway by admin The car washes mobile app enables admin to manage ratings and the feedback presented by the users connected with the service provided, analyze by the admin.
How Much Does it Cost to Develop On-demand Car Wash Mobile App?
It is not easy to decide the exact cost details about the on-demand car wash mobile app development. However, it will take many factors to consider such as design, advanced features, app size and type of platform and location of the mobile app Development Company, experienced and expertise developer etc.
The development cost of an app like a car wash mobile app needs many skills and proficient that comes from experience and knowledge. Fusion Informatics is one of the leading mobile app development companies in Bangalore, Mumbai, and Ahmedabad. We are a well-organized company and developed more than 1500+ app since 2000. We are specialized in developing mobile apps for the car wash industry.
We hold expertise app developers that allow your app to present in professional car wash app to transform your traditional car wash services as per customer needs and marketing demands.
To know the exact cost details about car wash mobile app development services, reach us at sales@fusioninformatics.com to get free quotes.com