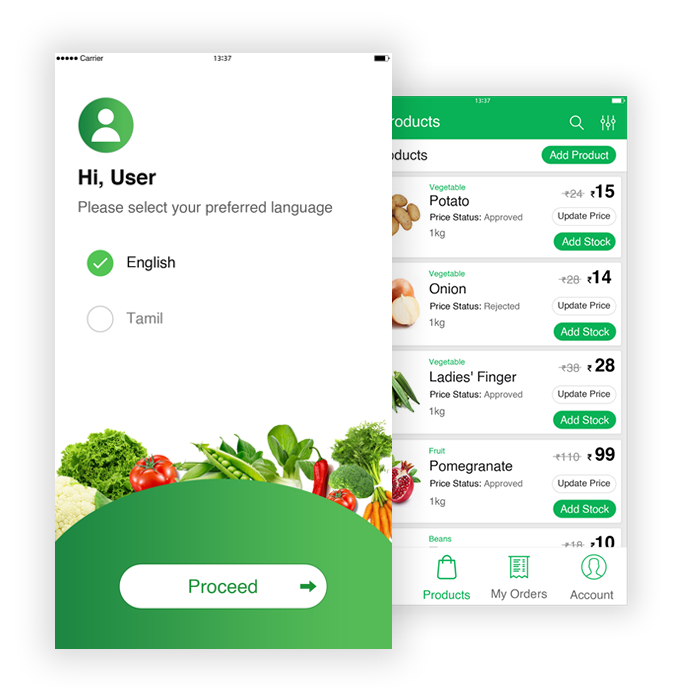 About - Farmerprice Seller
Farmerprice is an online digital tool to provide farmers a platform to reach and sell their agricultural products directly to end consumers that directly is from farm to customer place. Farmers are also getting details about their daily need Farm Equipment's, green house needs, animal farm and Feeds & Daily Agro Need at farmer's doorstep for Quality Produce & services.

Farmerprice is a Farmer to Consumer platform, which allows farmers to do direct marketing of their produces to consumer and retailers without middleman or intermediary. It enables retailers to buy directly from farmers and sell online in their nearby area with affordable price. In addition, consumers can buy from the nearest shop or directly from farmer with complete traceability of the products

Farmerprice is a revolutionary online farmers' market app, which connects the local farmers along with their fresh and delicious crops with food lovers all around the world. Farmerprice is different from any other grocery-shopping app because of something we can it as a "Direct Farming." by directly connecting farmers with consumers. We even avoid unnecessary and expensive middlemen, and both sides end up benefiting.Download Farmerprice app today and experience the service by choosing the fresh vegetables, fruits, eggs directly from farmers with reasonable rates.
The Client's Business Requisite
A client from India approached Fusion Informatics to develop an Android based Direct Agriculture Marketing App for Farmers and consumers which should be available with single window service for all Agricultural related kind of services, which will contain Agri produce arrivals & prices, facility for responding to the trade offers, buy & sell trade offers among other services.
Our client wanted such app where it should be helpful for both farmers and consumer as well just like each farmer opens their own store on the app, free of charge and with no fees and adds their products and prices and delivery options. Consumers go onto the app to find their favorite farms and products, place an order with a click of a button and book a home delivery as available.
Therefore, we together decided and raised the idea of an local farmers marketplace app development, which makes it an easy task for consumer to book a fresh products and this helped many farmers and individuals giving a best ROI for farmers as well.
Development and Challenges faced
User experience

While developing the Fresh Vegetables & Fruits delivery app for farmers we had faced many challenges as our client wanted a feature where farmer can promote their shop and products in app, integrated with social media platforms as well and they expected all these features to be implemented in main page of the app which was challenging and also client expected to launch it for people as early as possible.

User-Friendly interface

Adding just features is not enough when user experience doesn't satisfy and feel it complicated so keeping that in mind our developers made the things easy for both farmers and consumers, so ultimately we had come up with an different strategy where both consumer and farmers should be happy with the UI experience.

Payment

The payment has to be accurate as per the order and to make sure that the correct deposit amount is collected and refunded without facing any delay, Our developers has finally came-up with using Stripe Payment Gateway's option for better and safer transactions between consumer and farmers within app and Secure and fast payment options like Credit/Debit card, netbanking, UPI, Wallets and Cash on Delivery.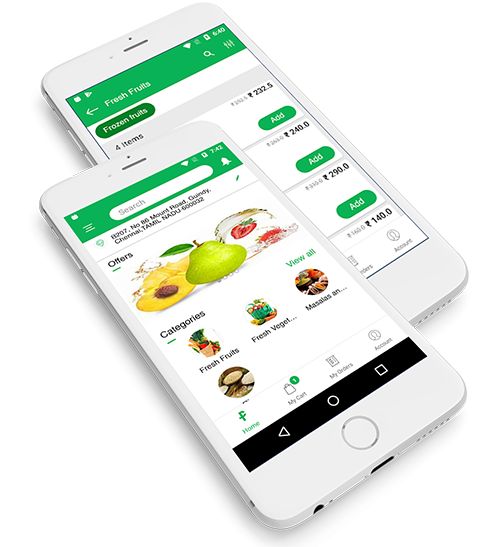 Features Implemented
For Farmers :
Farmerprice app which allows farmer to sell their produces online in their nearby area without middleman
Improve supply and demand transparency
Advantage of expanding the both buyer-and-seller network
Increase farmers income by providing them with demand info and more pricing options as well
Reduce food waste with more selling options
Farmer can manage their Order,shop,Inventory,Subscription and Product Catalog.
Farmer can promote their shop and products in app
Farmer can buy directly from other farmers
Farmerprice is a platform to do Direct Marketing for Farmer
Farmer direct Sell will be Doubling farmer income
Farmerprice Farmer allows Inclusion of farmer in market chain.
Secure and fast payment options for Farmer like Credit/Debit card, net banking, UPI, Wallets and COD
For Consumer :
Platform for Farmers and Consumer For Direct Marketing
No intermediaries involved. It is a direct deal between you the Consumer and the Farmer
Maintain a Healthy Lifestyle by providing products hygienic.
If you buy directly from the farmer or even indirectly you get to know about farming too
You will get to purchase freshest and best product that too directly from the Farmers.
Reduce pricing for buyers as there will be more purchasing options
Secure and fast payment options for Consumer like Credit/Debit card, net banking, UPI, Wallets and Cash on Delivery.
Technologies Implemented
Built for :

Android

Industry :

Online Marketplace and Groceries

Technologies :

Android, Java

Country :

India

Language Supported :

English, Tamil