DARJIWALA – On Demand Tailoring Service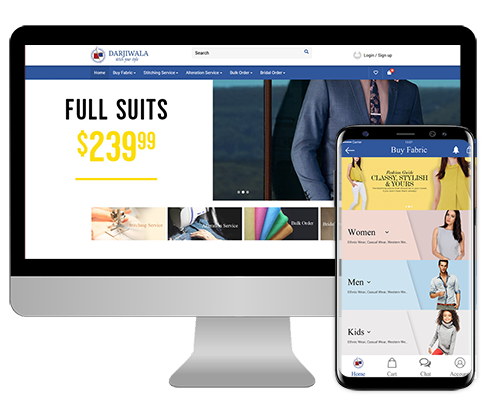 About –DARJIWALA
Now a days finding a good Tailor shop is similar to finding the lost coin in a river. There is a perception that, after coming of readymade garment there is no demand for sewed cloth from the tailor. Of course, the machine made garments will be good and high in demand but there are many customers who prefer tailor stitched fabric here because they can give the measurement according to his or her preference. In India, most of the Girls and women prefer custom-sewn fabric. The problem is these kinds of peoplecannot access a good Tailor who is near to them. No need to worry now as Fusion Informatics developed DARJIWALA to give you a perfect solution.
DARJIWALA offers services to women, men and children. We also offer services for wedding orders, bulk and uniform. All your needs of tailoring and design just need a single click. At DARJIWALA, we strive to achieve the highest level of "customer satisfaction" as possible. Our advanced platform e-commerce, highly experienced team of designers and Tailors ensure that you provide quality service and meet all your fashion needs.
The Client's Business Requisite
Our Client is from India and approached Fusion Informatics to develop an on demand Tailoring and Designing Service app for the people to experience comfortable service providing features like giving measurements as per the scheduled appointment. A tailor person will visit the customer place and take the appointment as utilizing Google map so that for tailor person it will be easy to trace the customer address in time. After the process done, then customers should be able to track his/her order lists, can see the delivery date, the charges and customer can also see the past order detail.
The main agenda of our client was to develop an on - demand Tailoring and Designing Service app for the those who are facing busy office schedule and people who can't reach the Tailor shop in a proper time.Therefore, in DARJIWALA we introduced unique features where people will no need to visit Tailor shop instead Tailor will come to your place, take measurements and deliver your garments.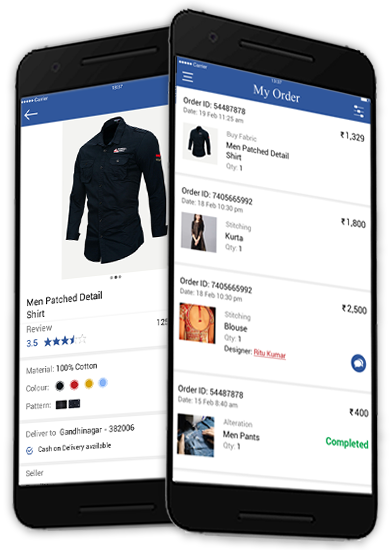 Development and Challenges faced
Request an appointment

Our client wanted a feature where once the customer connected to the application, he / she must have the access the feature to request an appointment with the agent. Depending on the availability of an agent and point,appointment will be fixed between the agent and the customer.

Orders and Payment

We have implemented a secure payment option for customers who can view the list of the order list and pay option to orders that are ready with sewn cloths. Thus, customers of our client can process the payment by debit card and credit card. Once payment made, they can see the final invoice bill.

My address book

The customer wanted to implement a tracking system with a Google map so that their tailor person, it will be easy to trace the address of the customer in time and take action and later deliver the dress. Therefore, we implemented the Google Map for both tracking customer address and delivering the goods as well.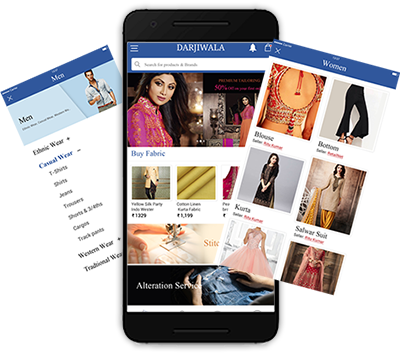 Technologies Implemented
Built for: Android
Industry: Online Tailoring and Designing Services
Technologies: Java Kotlin, PHP
Country: India
Language Supported: English