How Enterprises Can Use Chatbots Technology
Looking to increase sales and customer loyalty by enhancing the customer experience with your company products? Customers are looking for more information regarding your business products and services you provide and the research shows that adopting chatbots in the business helps to connect more with customers and enhance the demand of automation of customer support service.
AI chatbots are automation regulating tools that help to improve interactions with your brands and can increase the customer experience too. The adoption of chatbots in business can generate more sales and develop a deeper connection with customers. Chat Bots control supply chains easily and can also produce marketing plans and delivers real-time inventory records.
Chatbot App Development Solutions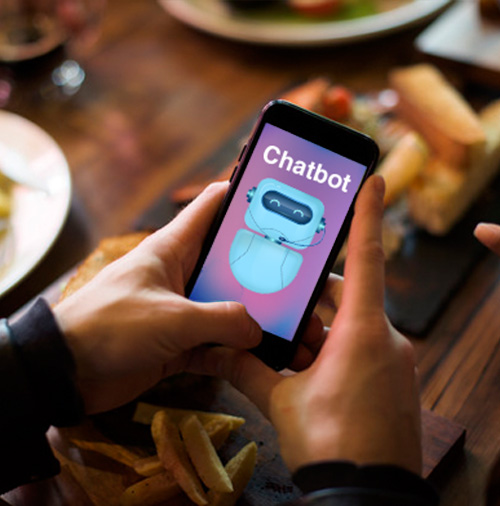 At Fusion Informatics, we hold dedicated developers, they are experienced and have the capacity to cater to all your development requirements. As we are leading chatbot development companies in Doha and Qatar, have an in-depth knowledge of chatbot technology that would be beneficial for both users and enterprises. We develop chatbot that packed with high quality expected to the reach market demands and support enterprises to collect vast customer data.
Our developers have the capacity to develop the automate chatbots that help to increase the productivity of a business by providing customer quick and effective access to data. We are the best chatbot development company in Doha and Qatar helps an enterprise to get closer to the consumer by interacting with conversion through text or voice format.
Fusion Informatics providing software solutions from past 19+ years and our Chatbots can be available for your customers 24*7 and can be applied to explain the intent of the users, which is essential to the business. It develops the users' response time and is important both for startups as well as established enterprises for daily services, reports, and sales.
Benefits of Chatbots in Business
Chatbots can be automated operation and can able to interact with customers all the time 24*7 access
With the help of chatbots, companies can reduce the team, that it allows the business to receive a large number of questions from the customer side
The chatbots can collect and store data helps companies to monitor user interactions and can support to optimize the process accordingly.
Business peoples can obtain real insights by collecting customer preference and can present the latest offers and discounts to their customers.
Enterprises can save money and time by adopting chatbots in their business to meet the desired needs and helps to update the products based on customer preference.
Why Fusion Informatics for chatbot development company?
Fusion Informatics is one of the top-notch chatbot app development companies in Doha and Qatar that produces world-class Chatbot Development Services to multiple brands and industries around the globe. Our highly proficient, qualified, and capable developers will help you to operate Chatbot solutions as per the requirement of your industry.
As we are the leading chatbot development companies in Doha, Qatar, holding experienced developers that they have deep knowledge and expertise in producing Chatbot development. Fusion Informatics has 19+ years of experience in developing various software applications that have helped and encouraged companies around the globe to automate their duties and also presented them with a system of effective communication with their individual customers.