About – How much does an AR App like IKEA Cost?
If you are an active mobile and computer user, chances are you have used at least one augmented reality application. Whatever it is this technology enters our lives and becomes part of the routine. Applications and virtual reality apps or devices no longer surprise people. In fact, augmented reality apps like IKEA have become the idea of ​​developing customer service. So, let us talk about what augmented reality is and how we can use it.
The latest IKEA augmented reality app is a remarkable example of how the retail industry can spearhead technological progress. After the incredible success of Pokémon Go, the IKEA Catalog and IKEA Place are one of the leading mobile apps to provide commercial benefits.
Augmented Reality is a way to add components that made virtually into real-life images. The visual effect layer is only one part of AR. Users can also be affected by sound effects or smell. All of these sections help users to get a more complete experience. Components are introduced with reality show things in different light, which is the main distinguish between augmented reality and virtual as well.
The augmented reality app developer's concentrates on making separate components added to the actual image. Virtual reality app development like IKEA requires the replacement of complete scenes. Images those users see no longer have anything to do with real life.
In addition, there are also mixed reality and computer mediated. Mixed reality is a combination of augmented and virtual Computer-mediated reality only refers to the use of devices such as telephones or glasses to interact with virtual environments.
However, technology has done quite well for people and now in this arena too, technology comes as your savior, offering new technological advancements such as the Augmented Reality shopping apps like IKEA. With the AR application, you can choose colors for the interior, model your room, display it with furniture, and do more.

In this blog, we have discussed the benefits, basic functions, and cost to Build Augmented Reality (AR) App like IKEA, its development process, the estimated cost of IKEA clone app and more. Therefore, here let us start with the benefits:
How AR eCommerce Apps like IKEA can benefit your Retail business?
When we think about the introduction of cyberspace, the first thing that comes to mind is the gaming industry. However, the use of AR is much broader than just games. This can be used in fields such as archeology, architecture and biology for virtual modeling. Ecommerce uses augmented reality to create interactive advertisements and marketing videos.
AR is also used in the field of education. Initially used as technology to provide additional information, it quickly turned into something more. Now, students can be part of simulating historical events, watching the universe, or simulating the human body. Students are not the only ones who use this technology; specialists in various fields using augmented reality for training (pilots, doctors, astronauts, etc.). In addition, this is not a complete list of technology applications.
Great promotional ideas: AR technology has been very successful and when you associate it with your business, it offers a natural tendency in the market. In addition, you can find various ways to promote your products & create creative advertisements, such as offering product-related information, displaying new products and providing users with a 3D experience.
AR Shopping Experience: Augmented Reality Shopping applications allow customers to shop fearlessly as they can buy furniture that suits their home. Like, users can put a closet in their room and then check where it will look best. In this way, the risks associated with product returns & logistics costs can be reduced.
Find a fan base at a young audience: Businesses can successfully target young users with the AR application. This audience can be used to bring legitimate business to the company. And unlike VR applications (virtual reality), which require additional tools, AR applications can be widely accessed with many mobile users.
Unlimited growth: Technologies such as AR ensure unlimited growth in the retail business and enable them to become a brand loved by people and win the entire market. By offering a great shopping experience to your audience, you can succeed in luring them to buy your products & services.
Broadcast: By using AR tools, retailers will be able to display their products visually & interactively and this will be a driving factor for customers to make purchases. Like, furniture stores can offer customers an actual view of how bed tables are seen in their homes.
Augmented Reality App Development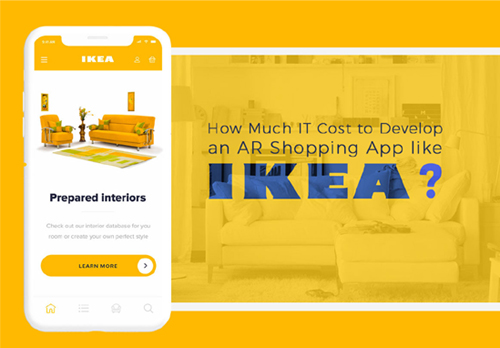 Just like developing other applications, the application of AR will require a lot of planning and Cost to make App like IKEA depends on its features. You must decide on the functionality and design before starting with the others. The application must solve several problems. You need to make sure there is a request for the service you are making.
One of the most important things to distinguish is the need for special equipment and Cost of AR Shopping App like IKEA depends on how you want your application to function, you may need integration with glasses, lenses, special gloves, etc. After the planning phase is complete, you can start looking for a company to do the work for you.
A good AR service provider not only knows how to develop an Augmented Reality app but will also be able to advise on features, design parts, and support processes. You will be able to discuss all processes with professionals in this field to achieve the best results. There is no one universal method for making AR mobile apps because many will depend on the functions, applications, and tools used. Therefore, we will discuss a specific example from IKEA.
Basic Features of AR Shopping Apps like IKEA
Elegant angle positioning
Social media Sharing
Media access
User-Profile
360º degree view
3D view of the items
User-Profile
Order History
Shipment Tracking
Sync across device
Device hardware usage
Smoothly navigate through product categories
References to each of the product page
Multiple language support
Elite-class design with items in the interactive entourage
Device hardware usage
Multi-language support
Payment gateway integration
Search products & choose favorites
Additional Features
User-engagement features, (like push notifications & social)
Native-device features
CMS Integration
Real-time Analytics
Loyalty Program
App Personalization
Chats Bots
Real-time Analytics
Real Time Dashboards
CRM Integration
Inventory Management System
How does Augmented Reality (AR) App like IKEA work?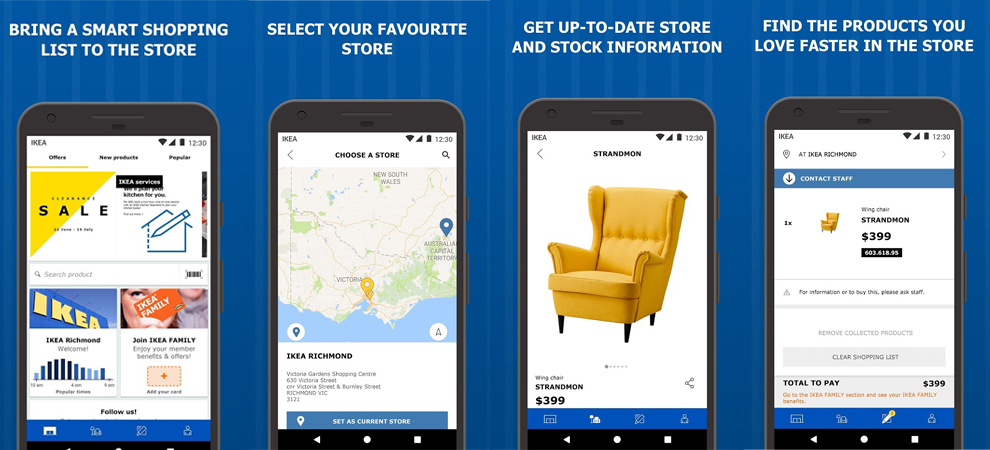 The free IKEA AR application downloaded on the App Store and Google Play. A very popular application and one of the best examples of conventional augmented reality features augmented reality in furniture. This application offers a virtual trial of furniture objects from the catalog, so users can place them in their real environment. This helps adjust and choose the right measurements and play with the design.
Users can browse the catalog, choose furniture or decoration items (maybe a table, chair, sofa or lamp), then switch to AR mode and view it on their mobile screen. These items are to a certain extent responsive to the environment. The AR application offers a wide-angle view, even though there is no 360-degree display Augmented Reality Objects detect horizontal surfaces in the room, so they do not wander around.
When the camera is open, the outline of the product appears on the frame and the user can pan, rotate or even change to look right, before making sure the selection is from a scrollable list. As a result, a virtual version of new furniture with space in the background can be seen on the device screen.
Next, let us move on to the technical section and explore how the SDK can be very helpful in developing augmented reality apps such as IKEA.
How much does it cost to build an app like IKEA?
The Cost of Augmented Reality Shopping App like IKEA Project is very dependent on the team developing the application. This depends on the skills of the team members in their respective fields and the development period.
The Cost to Create App like IKEA will depend greatly on the team that you employ, in terms of both skills & period. Like, if you want to develop applications in as few teams as possible, you will need more than one person for each role and need to hire an AR App Development Company. Usually, you need to:
Need Analyst
Project manager
Designer
Unity Developer
Android / iOS developer
QA Specialist
The IKEA App development cost will vary depending on the complexity and the contractor you choose to work with. A skilled and best Augmented Reality app Developer will provide all the specialists needed to help you. In addition, the final price will depend on the hourly rate of the specialist or the team in general. On average, the development process will cost around $ 30,000 +, but working with professionals will help you build high-quality products that will give you value.
Factors that Affect the Cost while Creating App like IKEA
In summary, the cost to develop Augmented Reality E-Commerce Apps like IKEA costs around $ 43,000, with Development requires 25,000, 3D 5000 Design & Animation (depending on quantity.
Augmented Reality is the idea of ​​creating a virtual environment that seems real by combining real-world objects with virtual ones to make it look real on the system.
Very important to analyze all problems and identify the environment.
Discuss and complete the flow of functions in the application and use cases.
The important task is to choose the relevant software development kit according to application requirements.
Consider the cloud recognition approach needed to create target objects for applications.
The last step consists of creating virtual objects for augmentation
If you want to get an Augmented Reality app development for serious business, then you have to use a special AR application, when it's free and ready-made solutions won't help you. Instead, you need a comprehensive development process. Although special AR applications are expensive but unique, and therefore they need developers, designers, skilled 3D artists, and more time too.
Shopping apps like IKEA provide a great experience for users with the help of AR features. This allows them to choose the right object by placing it in the right position and at the right angle in the real world environment and making the right decision to buy the product. Different applications offer different features, and each is unique in its own way.
Conclusion
Developing AR app like IKEA is a combined effort of mobile application developers that is very helpful for application development companies. You can get you own AR app with cumulatively design and develop unique AR applications with the help of the right Augmented Reality App Development Companies in Bangalore, Ahmedabad, Mumbai, Delhi, Noida and Gurgaon.
IKEA has strong competition but is still in the game. It offers various features and corner positions with social media sharing and basket options. Augmented Reality also needs to be applied in all other applications.
Now this the right time for you to contact the Best Mobile AR App developer for iOS/Android today to fill the lost spark in your business by developing AR applications. If you if still have a doubts on how to create augmented reality apps android, Iphone, iOS then get in touch with Fusion Informatics at sales@fusioninformatics.com