BUILT FOR: iPhone Objective C, Android (Native), ASP.Net C#, MSSQL, HTML, Jquery
A call in time of an emergency, a helping hand connecting those in need with those who can lend a hand of aid.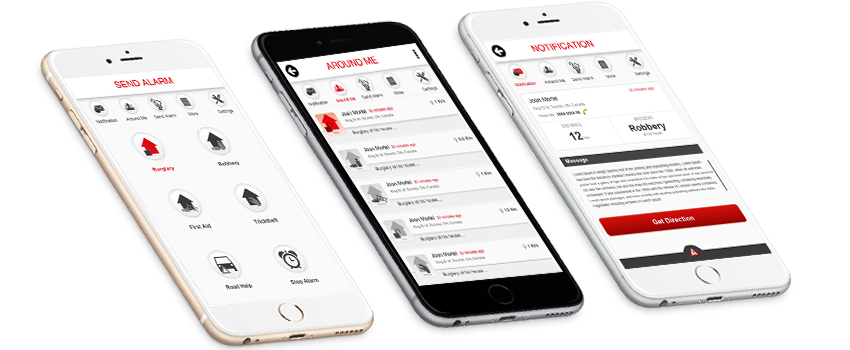 A helping hand for your near and dear ones
AppLARM revolves around social responsibility and is developed mainly to signal/alarm a person that a friend or somebody they know is in danger and in need of immediate assistance.
AppLARM is an APP for your Smartphone or tablet which, together with your alarm system, can automatically trigger an alarm when the mishap occurs. Once you have been registered as a user on AppLARM , you can manage your settings from both the APP and the website.
Free Version:
With AppLARM on your phone, you can send and respond to alarms from others who are in need of help in your community. AppLARM connects people who are need in of help with those who would like to make a difference by helping others. AppLARM can be used cases of burglary, assault, theft, roadside assistance or help with first aid. On AppLARM you can create a group of friends or those in need of assistance can call 112 and 114 from the APP which will further alarm other registered members of AppLARM in your area that you are in need of help.
Pro Version:
AppLARM PRO gives you the option to send SMS along with the alarms that you publish via AppLARM. This ensures fast response from others and makes you simultaneously able to connect a GSM alarm system to automatically forward your alarms from the alarm system. This helps other people in your neighbourhood to warn you and further stop/prevent anything they feel suspicious around your house. AppLARM PRO can give your current alarm system a far greater efficiency while giving you even more confidence. AppLARM also has a guide to first aid and a site map with information about the position from where help is needed.
APP SCREENSHOTS
See how our app is designed in beauty and simplicity.